Making maintenance a competitive differentiator for Transit agencies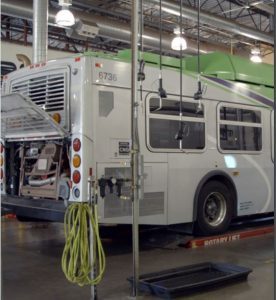 50 percent savings in maintenance labor and maintenance, repair and operations (MRO) materials

Near-zero unplanned downtime of critical equipment

If you could achieve these things in your maintenance operation, you would, wouldn't you?
Why haven't you?
We're pulling your leg. We know why.
Moving to a state of optimal lifecycle management of your physical assets is a big, broad undertaking. It involves identifying each asset's criticality to the overall operation, creating an asset hierarchy, and adhering to the resulting maintenance strategy that prioritizes critical assets. It's almost surely different from what you've been doing up to this point.
The new plan won't necessarily involve more maintenance; perhaps the current frequency is overkill and is costing you money. For Transit agencies, saving money probably isn't the most important factor: being compliant, meeting State of Good Repair guidelines, ensuring safety, and meeting schedules are even more crucial.
Why maintenance and not some other area?
The critical thing is that you get started in overhauling or perfecting your asset management system. Why should you pay more attention to maintenance when there are so many competing priorities? Because maintenance efficiency has become an opportunity for competitive differentiation--especially for Transit agencies.
You can reduce unplanned downtime of equipment, vehicles, and facilities that is a killer of on-time performance. You can scale your maintenance efforts to easily include more and more assets as your operation grows. You can track anomalies over time and repair or replace equipment and infrastructure at the optimal time that gives you the maximum life out of the asset without going too far and compromising safety or performance. And if other transit agencies or companies do these things, and you do not, you risk less efficient performance and loss of business as customers turn to more reliable transportation methods.
For more on this topic,
read "Maintenance Maturity: How Cloud Technology Moves the Needle"
in
American Infrastructure
magazine from Infor's Kevin Price.
Product
CloudSuite Distribution Enterprise
CloudSuite Facilities Management
Infor EAM
Region
Let's Connect
Contact us and we'll have a Business Development Representative contact you within 24 business hours