Making the case for marketing automation: A practitioner's guide
Watch the webinar on demand
As a marketer, you already know the challenges of engaging, nurturing, and converting qualified leads in an increasingly digital and consumer-savvy marketplace. But convincing your C-suite (and the finance department) to invest in the marketing automation software you need to keep up isn't always easy. Our panel of marketing experts brings more than 70 years of industry experience and a deep knowledge of enterprise-level campaign automation.
During webinar, marketing executives including Kerry Nelson from Infor, Ali Rastiello from Big Commerce, and Kevin Joyce from the Pedowitz Group, explain how to present make and present your case for marketing automation to increase customer engagement, save time, automate tedious business processes, and leverage your data to make better, faster business decisions.
Here's how to make your case: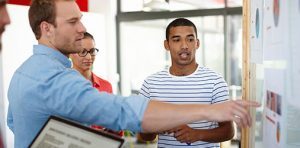 Campaign automation and cloning
Stop starting from scratch every time you want to run a new campaign. With marketing automation software, marketers can easily customize, reconfigure, and re-launch existing campaigns and tactics. Plus, by automating triggered responses to leads and event attendees, following up with qualified prospects is simpler than ever
Data insights and reporting
From events and gated content to lead capture through email campaigns, your prospect list can quickly reach thousands—and unfortunately, many of those leads are neither unqualified nor unengaged. Automated marketing campaigns not only allow you to score new and existing leads based on online behavior and interaction with your brand, but also provide the information you need to determine what content is attracting your leads in the first place. From there, marketers can purge leads who aren't qualified or active, eliminating bad leads from the system to focus on nurturing those who will eventually convert.
Sales enablement
The data visibility that marketing automation provides is as valuable to the sales team as it is to marketers. If your sales people know where leads are in the customer journey, they can avoid repetitive nurture efforts (which may turn customers off) and take over the relationship from marketing when the time is just right to shorten the sales cycle. Marketers can then pause or delay campaigns to specific leads while sales take the reins to make a conversion.
Watch the webinar
now for the answers to all your burning marketing automation platform questions.
Let's Connect
Contact us and we'll have a Business Development Representative contact you within 24 business hours