Managing patient experience
I recently visited a healthcare customer who is looking for a tool to streamline and improve their processes for managing patient complaints. I was surprised over the fact that our discussion brought back so many fond (and granted some not so fond) memories of handling patient experience issues when I was employed in the hospital setting. Letters sent to the President/CEO, returned satisfaction surveys, email messages submitted online, and posts to social media were (and still are) common ways in which the health system would become aware of matters relating to health related topics like confidentiality, quality care, and customer service. In typical fashion, team members from across our organization would collaborate to address these concerns and respond in a timely manner. Lacking any formal tools, our process for managing those patient complaints was clunky and arduous. Regardless, to the best of our ability using spreadsheets, word documents, emails, phone calls, and then even more emails, we'd get the job done.
However, reflecting back, I realize we never thought to implement a protocol for managing patient compliments and accolades. Sure, a positive letter or email would be passed on to the appropriate director or service line manager, or if particularly complimentary, it might be read out loud at a Director's meeting. But we were truly missing out on the chance to reach back out to the patient and effectively deliver on an even greater positive experience.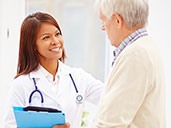 Perhaps because so much of our energy was focused on managing the grievance situations? Those issues that were formally submitted and, as a result, documented and followed up on by… us. Because those were the issues that could adversely affect our patient satisfaction scores, the negative became our focus.
And what about what goes unsaid? Clearly, we were missing out here too.
Specifically, I'm talking about the hundreds of conversations, both positive and otherwise, that play out among friends on Facebook, over coffee after church, or at school events while sitting in the stands with other parents, grandparents, neighbors and friends. I often found that people were quick to share their thoughts and experiences regarding patient care, doctors, and customer service when they learn you worked for a local or regional healthcare organization. However, when I would ask if they formally or officially shared their stories with my employer, most shook their heads 'no' in response. I'm embarrassed to admit that, while I would accept a compliment or offer encouragement and advice, I didn't always take action on their behalf. Perhaps because venturing down that path was so… cumbersome.
The deal is that every compliment and every criticism, regardless of size, needs to be acted on because they each provide the opportunity for an organization to go above and beyond with delivering a positive patient experience. Healthcare providers owe it to themselves to invest in the tools and technology that can make this possible.
Looking back, I can see we were overlooking the bigger picture. We should have been exploring ways to better solicit, document and manage ALL feedback. Eliminate 'clunky' and 'arduous' and invest in a platform that improves efficiencies. One that makes it easy to record, organize, track and follow-up appropriately on both the positive and negative patient experiences. A tool that integrates with email and can be accessed virtually from anywhere on any device! One that allows users like me to quickly enter or retrieve information - regarding a complimentary patient experience - while attending my daughter's soccer game.
Learn more about how to exceed expectations in delivering on an even greater positive experience and Infor's Customer Relationship Management (CRM) solution. Contact Infor to
request a demo.
By:
Candace Beckman
– Solution Consultant, Infor
Let's Connect
Contact us and we'll have a Business Development Representative contact you within 24 business hours