Manufacturers express optimism about growth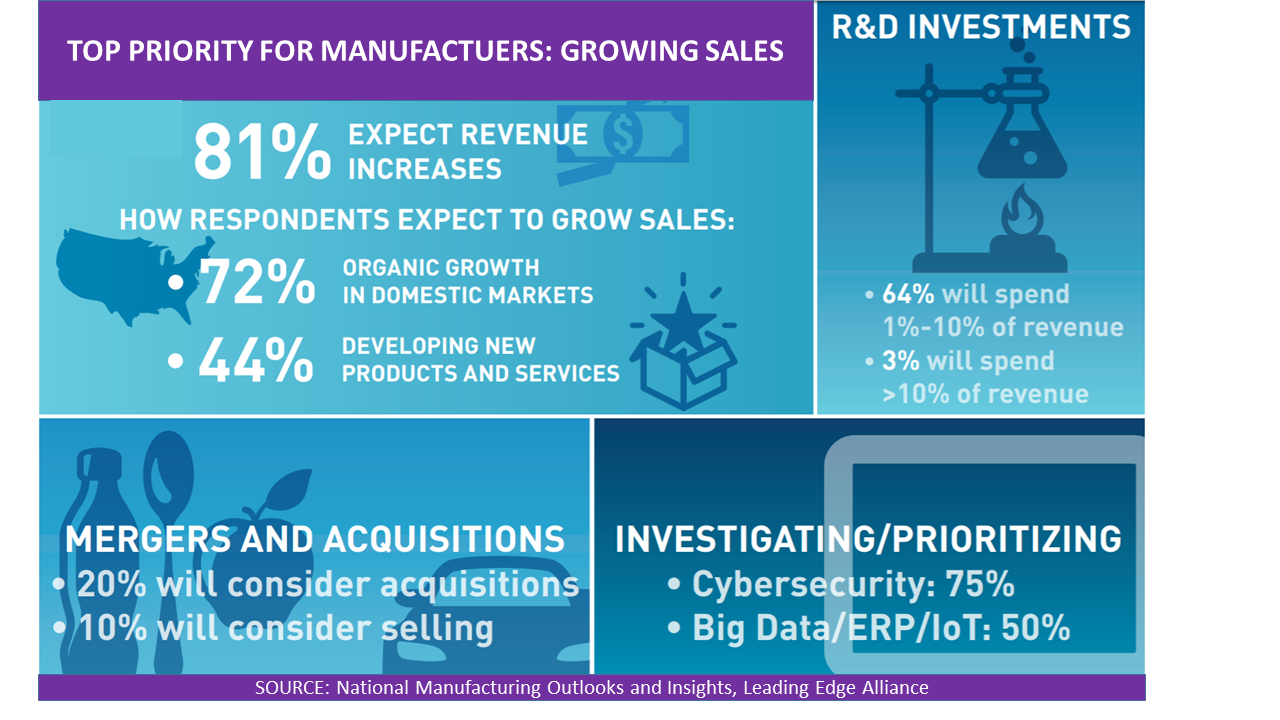 A report published by the
Leading Edge Alliance
paints a rosy picture of the global outlook for manufacturing. Manufacturers' optimism for the world economy in 2018 is now 59.4% — almost a 15-point increase over the 2017 outlook. Manufacturers are also optimistic about their national economies (69.3%) and their regional economies (69.3%)
Just how bright is this rosy portrait?
In the previous year, only 30% of manufacturers expected their sectors to grow. For for 2018, however, that percent has more than doubled to 63%. In addition, the percent expecting it to contract dropped from 10% for 2017 to 4% for 2018.
Compared to the flat, sluggish recovery figures that have plagued manufacturing for the past decade, this new optimism seems absolutely glowing. Survey findings show that 81% expect increases in revenue and 72% expect organic growth. It's important to note that the survey was conducted in October 2017, before the tax reform legislation was passed in the US. The tax reform largely has been perceived by the manufacturing industry as a positive measure, and would possibly boost optimism yet further.
How do manufacturers plan to achieve growth? Almost three-fourths of manufacturers see organic growth within the U.S. as their primary opportunity to grow sales. This was followed by 44% of manufacturers expecting new product or service development. This aligns with digitalization trends which indicate that manufacturers are launching more products which are highly customized or configured. New service-related offerings are also gaining attention, as are offerings which are largely data-driven, such as sharing with customer performance data.
The survey also shows that about 20% expect growth to come from joint ventures/strategic partnerships or organic growth in markets outside the U.S. This makes sense as manufacturers are relying on partnerships to produce components and specialized elements. Another important point is that 47% of manufacturers with international sales expect to see growth in that segments as well.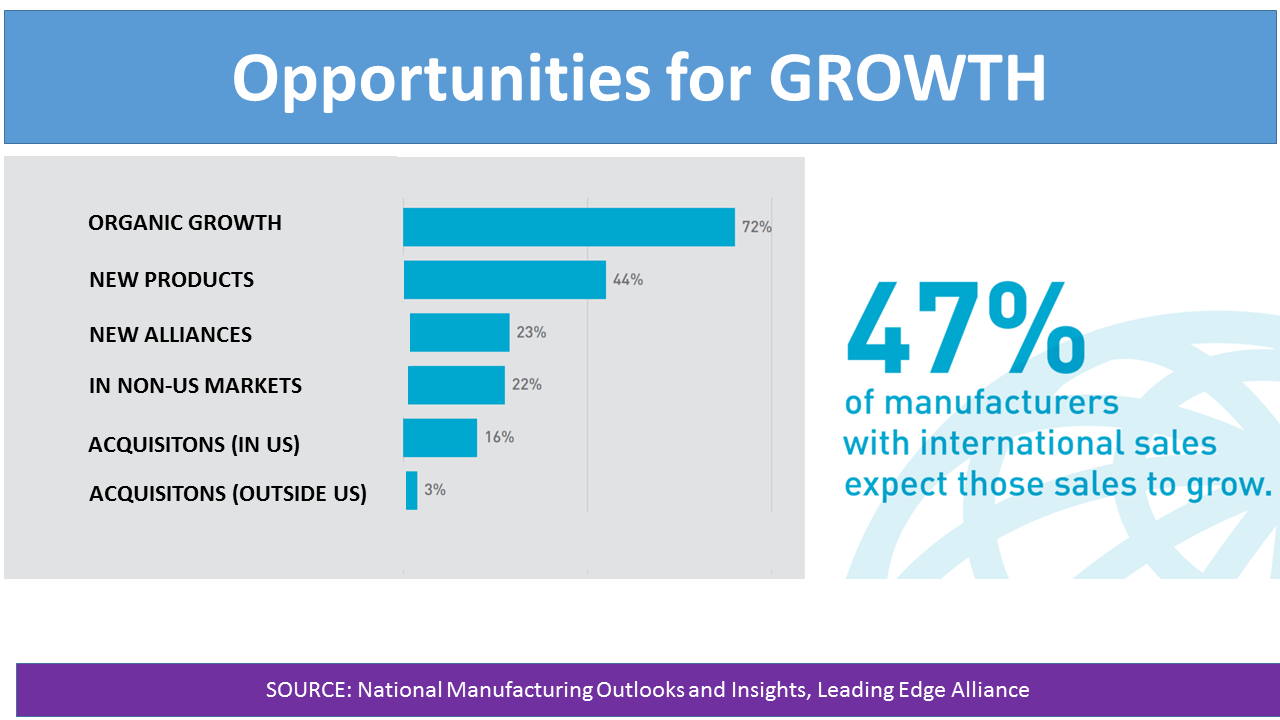 Now, let's look closer at where manufacturers plan to invest and where they foresee spending increases. The top item is personnel. As manufacturers are struggling to find highly skilled workers, they are acknowledging that filling open positions means paying higher wages. It may also mean using "contract" workers on an as-needed basis or footing the bill for apprenticeship and training programs. That manufacturers are willing to invest in the workforce is a positive sign.
The survey also shows that 51% of manufacturers plan to increase spending on promotions, including sales promotions. Maintaining a competitive edge today is harder and harder. Stepping up with promotions, including promotions of the new products and service offerings, is a smart move for manufacturers.
Another smart move is investment in technology. The survey shows that 35% expect to increase spending in technology.
Productivity and improving customer service are the top drivers for
manufacturing technology investments in 2018.
Gaining access to more relevant data and improving product quality, consistency,
and/or offering were both selected as technology business drivers for more than
one-third of respondents. Cybersecurity, by far, is the top technology focus for manufacturers. Beyond cybersecurity, which seems to appear in the news on a weekly basis, almost 50% of manufacturers are also exploring or prioritizing predictive business analytics/big data, ERPs, and the Internet of Things (IoT). Technology developments of less concern to manufacturers include 3-D printing, nano-technology/advanced materials, and wearable technologies, all of which are under consideration or a priority for fewer than 25% of manufacturers.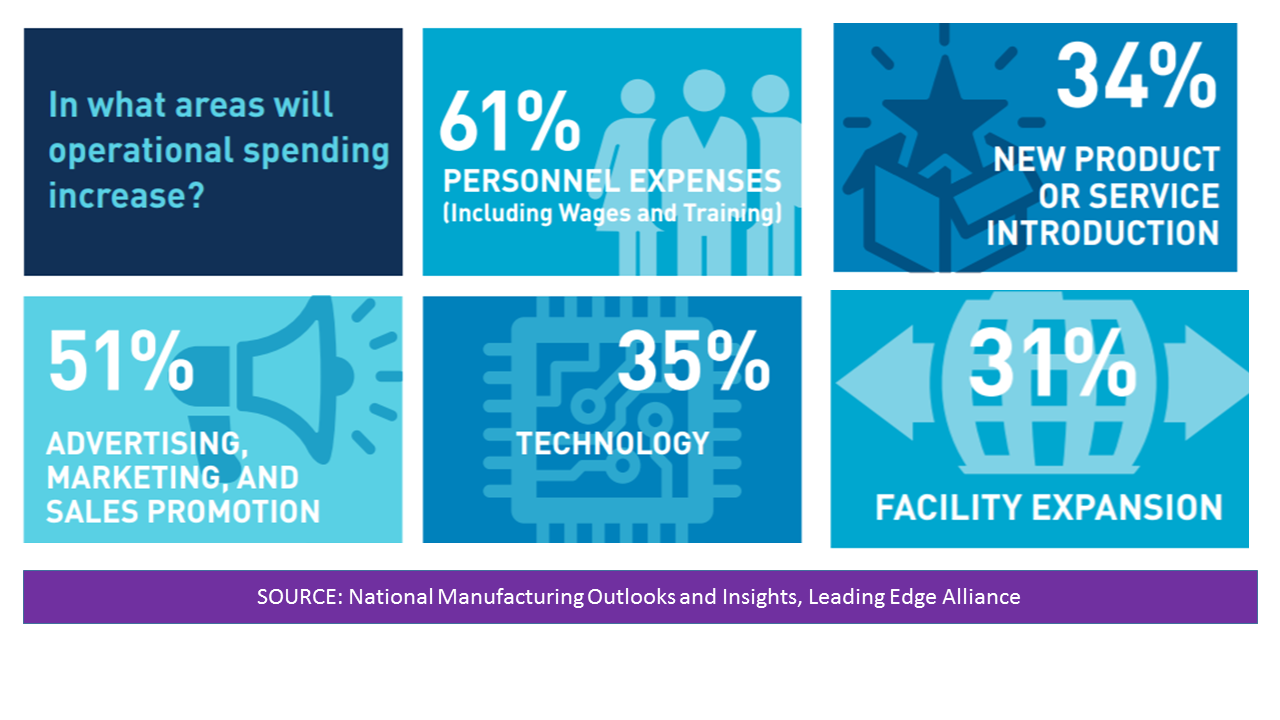 Manufacturers are rightly optimistic about their own performance and that of the industry and economy as a whole in 2018.
This does not, however, mean that hurdles will not exist in the coming year. Some of
those hurdles may become even more significant with economic and industry growth
and tax changes. What's important, though, is that manufacturers remain alert and responsive to change. Agility is critical. It is also important to remember that the competition is feeling optimistic, also investing in technology, and eager to achieve growth. The manufacturer who is slow to react can fall behind.
Let's Connect
Contact us and we'll have a Business Development Representative contact you within 24 business hours