Manufacturers: IT tips for steering the ship
A famous saying goes: "Don't be afraid to aim for the sun. Even if you miss, you'll land among the stars."
Selecting goals and tactics for your IT efforts requires a defined target, we know. But selecting that one target can be difficult. Aim high for big gains? Or aim for closer objectives and incremental improvements?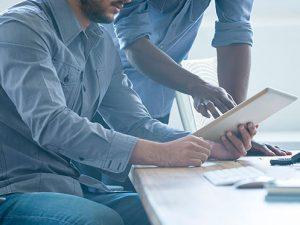 Choosing the right direction for your IT investments can be overwhelming. The options are diverse. A multitude of technology options all offer value and promise meaningful benefits. Yet, available funds have to be stretched, accommodating as many must-have projects and critical initiatives as possible. The negotiation between teams on which has the greatest need can become intense.
The IT team has to set priorities, of course, but what should the evaluation factors be? How do you choose which route is the one that will offer the greatest value today—and in the future. This tumultuous time of operational and technology innovation in manufacturing offers a vast world of IT solutions, advanced applications, and innovative concepts, many considered game-changing or disruptive to operations as we know them today. Digitalization, Internet of things, cloud computing and data science are among the big topics with big shiny promises.
Too many choices can be perplexing. Careful consideration of each of the many options is extremely time consuming, requiring research and evaluation cycles that may include multi-page requests for information (RFIs), long meetings with vendors, and tedious demos. Determining solution strategies that are smart for today, plus support future needs requires understanding of the issues—plus foresight into the future technology trends as well as upcoming company directives.
What can the C-level executives do to be sure they are steering the company in the right direction?
First of all, turn to experts you can trust to help guide you. At Infor, we have worked over 30 years with manufacturers and distributors, over 25,000 worldwide, and have earned their trust with our purpose-built, comprehensive software solutions designed to support progress. Because of our role as both software provider and strategic technology partner, we have observed countless success stories of manufacturers that have created a strategic IT plan that provided sound results.
From our years of expertise, we've created these tips to help you get started on your journey:
Tie your vision to company business objectives
Know your goals. Tie the technology vision you have to company business objectives. How do these technology choices help the business be more cost effective? Or provide improved products and services? Would they help you reach customers and partners in value-added ways? What about securing the "right-skilled" workforce? Once you are certain the technology strategy aligns with the company's overall growth and go-to-market plan, you can take the next step.
Understand value of the technology to remaining competitive
What's truly important as a competitive differentiator? What is unique to your company, product, or services that will help you stand out from a sea of competitors that, quite likely, can outbid you and beat you on price. Is it product innovation, an enhanced customer experience, responsive service or faster delivery of goods? When you understand your true value to customers and the value of your distinguishing features, you can prioritize the order in which you wish to work to strengthen these features.
Scoping and identifying the ease of implementation
Looking at your list of technology projects, the next step is to get a sense of execution difficulty – meaning a view of cost, challenges, and time to implement. Simply put, the highest-value opportunity may not be the best one to pursue first as it may be extremely complex with an uncertain timeframe to achieving a return on investment (ROI). The key here is to look for impactful, fast successes with proven deployment tactics. This will whet the appetite of management for more and more technology-based projects.
Pull it all together with a roadmap
Now that you have identified which opportunities to pursue, create a visual playbook of just how you will execute over time. Include key milestones, like interdependencies, internal resources and budgets. Plan for interconnectivity of solutions, visibility, data sharing, and data storage. Consider remote access with mobile devices, agility of systems, and important industry issues you likely face, such as regulatory compliance and reporting needs. Be sure to address how you will engage with your supply chain partners, your partners, colleagues and customers. You'll see the big picture and share this broadly to reconcile potential conflicts.
It's not easy, but it is doable
This exercise can be difficult and challenging, particularly for manufacturers that are accustomed to making IT investments in response to a specific need, rather than as part of a strategic plan for long-term growth. Many organizations work with outside consultants for the implementation stage. Unfortunately, companies that specialize in deployment may lack the necessary software insight to help strategize a plan. Be sure to work with experts with industry-specific insights to make sound recommendations. Work with companies that are willing to listen.
Infor Services
Infor Services
is a global organization with end-to-end accountability for optimizing the value customers see from their investment in Infor solutions. More than 5,300 professionals currently support customers in 168 countries. The Services Team brings deep product and technical expertise, extensive industry experience, and the full force of Infor's resources to the task of making manufacturers successful. From initial deployment and day-to-day optimization to big picture thinking and proactive strategizing, manufacturers can rely on Infor experts to provide the depth and breadth of experience needed turn vision into reality. These individuals—passionate about what they do—are committed to helping manufacturers set priorities and find the right routes to the future.
Let's Connect
Contact us and we'll have a Business Development Representative contact you within 24 business hours