Manufacturing Day! Celebrate. Innovate. Empower.
September 27, 2017
Infor is a proud supporter of manufacturers.
We applaud your hard work, your commitment to growth, and spirit of innovation.
It's an honor to work so closely with our 25,000 customers in the manufacturing segment. In recognition of Manufacturing Day, October 6, (#MFGDAY17) we are devoting a month-long tribute to you, the hard-working people who provide the insight, integrity, and ingenuity that is the backbone of this essential industry.
Manufacturing Day also offers a chance to shine the spotlight on some of the complex issues and some obstacles that we need to work together to change. For example, manufacturers need right-skilled workers in technology, data science, analytics, and IT networks.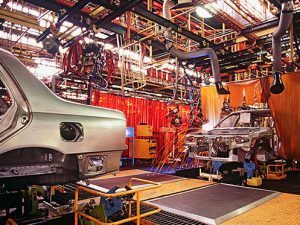 Manufacturers need visionaries who can help lead their plants into the digital era.
We've got your back.
All this month we will provide resources to help you, manufacturers and their suppliers, look closer at some of the related issues, such as skill gaps, recruiting the new workforce, and helping the existing workforce be highly engaged in their jobs.
Stay tuned. More to come.
Check our blog, Manufacturing Matters, often for new articles. We'll be sharing success stories from customers as well as advice on ways to overcome some of the most common issues today, such as the skills gap.
We want to help manufactures succeed. Manufacturing matters to Infor. Nearly half of Infor's business comes from the manufacturing segment. Pleasing this audience is a high priority for us. We have thousands of personnel dedicated to developing and maintaining software solutions to help manufacturers improve processes and achieve growth and profitability. We know Manufacturing. It is part of our DNA.
We are Manufacturing
Here are some related industry resources:
What is Manufacturing Day
Facts about manufacturing

Manufacturers' Outlook- results of survey
Event success
Videos you will find interesting:
The current state of Manufacturing
Creators Wanted
What Manufacturing Means

Manufacturing and Millennials
Changing perceptions
The Science Channel Supports Manufacturing Day
Delivering on the promise:
Analyst Report con Constellation Resources: Infor Delivers to Manufacturers
Nucleus Research: Infor CloudSuites for manufacturing
Why digital transformation depends on workforce transformation
Ten things you should know about the manufacturing skills gap
Helping manufacturers prosper in the digital age:
Infographic

Perspective: 9 starting points to digital disruption

WEBINAR:
October 18 2 pm ET. 9-Point Countdown to a Digital Launch
Let's Connect
We'll be in touch within 24 business hours.