Manufacturing Day: Forget the sepia-tone retrospective
Manufacturing Day
is coming up Friday, Oct 7, to celebrate modern manufacturing. As part of the tribute, we are focusing this week's blog posts on the heritage of progress in the manufacturing industry and its future of innovation and transformation.
We've come a long way since the good ol' days. Thank goodness.
Milestones, holidays, and national days of recognition provide an opportunity to reflect and honor.
Manufacturing Day
, Oct 7, is that kind of day—a chance to look back and appreciate a long heritage and the hard work of pioneers and industrialists who paved the way.
Dig up the quote from Henry Ford: "You can have a car in any color as long as it is black." Bring out the famous Rosie the Riveter image from WWII, woman in kerchief showing her muscles. Roll footage of early assembly-line workers, including women, hand-wrapping candy, just like Lucy and Ethel.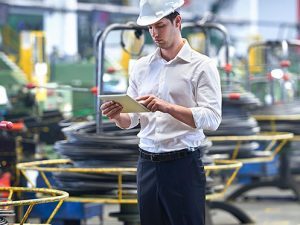 Manufacturing is part of the American DNA.
You with long family lines tied to manufacturing and jobs related to manufacturing may feel a special heart tug for the days of tin lunchboxes, family day on the plant lawn, proudly displayed union banners, and the brother-like camaraderie of the gang coming over for Sunday barbecue. Those were the days when everyone wanted to "get hired on at the plant" and if you had a job on the line, you were golden, set for life.
Those perceptions are gone. In the past decade, public opinion about manufacturing has drastically eroded. "Factories are dark, scary, and dangerous places to work, and greedy owners can be blamed for the lost jobs, plants closing, and communities crumbling without jobs," so the negative rhetoric goes. A recent study conducted by
Deloitte and NAM
found that only 37% of respondents indicated they would encourage their children to pursue a manufacturing career.
Manufacturing Day, started in 2012 by the National Association of Manufacturers (NAM), was designed to counteract those misconceptions, and encourage young people to once again consider jobs in manufacturing. The day aims to honor the
18.5 million workers
in manufacturing and manufacturing-related jobs, and educate the public about the impact and value of the industry. The hope is that opening doors for plant tours and generating media attention on the many positive aspects of the industry will help resolve some serious misconceptions and the general population's lackluster confidence in US manufacturing.
Manufacturing is facing a major reinvention. Manufacturers live with the upheaval and ever-changing market pressures every day. They face the challenges of finding right-skilled workers, obtaining investors, and finding community support for plant initiatives and expansion projects. Some may say, though, that the hardest challenge is listening to those who bemoan the good ol' days of manufacturing and lament the jobs lost to countries with low wages.
Manufacturing Day does let us reflect on all that has been accomplished by the pioneers in their fields, those determined inventors, business moguls, and visionaries of interchangeable parts, steam power, electricity, steel, railroads, combustion engines, assembly lines, semi-conductors, transistors … the list goes on and on …
But, we can't lose sight of the flip side of the story: Manufacturing worksite conditions were not always safe Hiring and wage practices were not always fair. Laborers were not always respected by their supervisors. The environment was seldom protected. Consumer rights were not always a priority.
But, these facts, too, are part of the manufacturing heritage. They are part of what makes us, those who know the full manufacturing story, feel good about how far we have come. We have made great strides in innovations, technology, safety, workers' rights, and product integrity. Yes, some jobs have been lost to robotics, automation, and off-shoring. But, is that really all bad? Change happens. The resilient adapt.
Manufacturing is full of new ideas and needs new workers to pick up the gauntlet. Manufacturing Day, we can hope, will help shine a light on the many accomplishments of hardworking, dedicated individuals and their companies. More importantly, that spotlight can give us a glimpse of what is ahead—an even brighter future for the new innovators and problem-solvers to come.
Let's Connect
Contact us and we'll have a Business Development Representative contact you within 24 business hours