Manufacturing Predictions for 2018: Software's Role in Managing the Manufacturing Skills Gap
by Nick Castellini, Director Industry and Product Strategy, Discrete Manufacturing, Infor
It is a good time to be an American worker. The economy is strong and unemployment is down. Unfortunately, the outlook for manufacturers looking to fill jobs is not so rosy. Renewed demand for domestic manufacturing leaves businesses scrambling to fill empty positions or risk being unable to take advantage of opportunity.
According to a
Deloitte report
, over the next decade 3.5 million manufacturing jobs need to be filled with only 1.5 million workers. That leaves a skills gap of 2 million workers. Manufacturers are hit particularly hard because the current generation entering the workforce often lacks interest in manufacturing or the technical skills needed to be qualified for open positions. At the same time, a retiring generation of Baby Boomers is unable to effectively pass on the tribal knowledge needed to keep the operation running smoothly. Therefore, there is extreme competition among manufacturers as they attempt to attract and retain talent. How can manufacturers differentiate themselves to ensure that people want to work for them?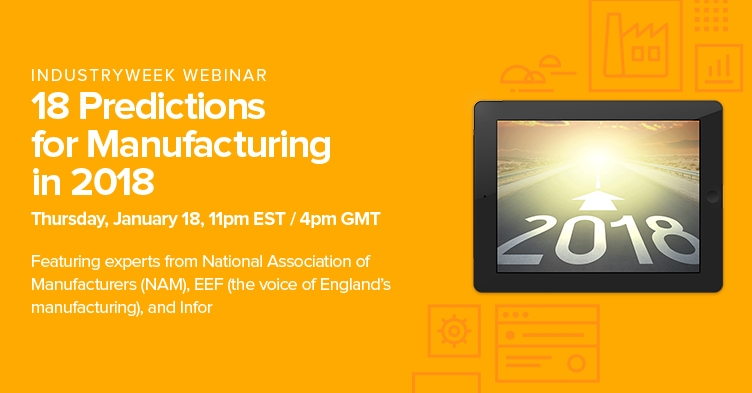 On January 18
th
, I'll be participating in a
webinar
with IndustryWeek where we will reveal our top 18 predictions for manufacturing in 2018. One of the predictions I plan to share is software's role in talent acquisition for manufacturers today. This is important because a the recent
ASQ Manufacturing Outlook Survey
found that the top challenge for 2018 will be finding skilled workers. Specifically, I plan to reveal how user-friendly, collaborative software is essential for enabling the new generation of workers to manage tasks and make decisions quickly and easily. This is a proven way to make manufacturing jobs more attractive.
This is something manufacturers must do in order to overcome existing hurdles. Research indicates, the generation currently entering the workforce does not rank manufacturing jobs as highly desirable. Common misconceptions are that manufacturing plants are dirty, unsafe, and outdated. Many feel that there are not opportunities for career growth in manufacturing organizations. We know that this is all far from the case, but the perception persists. Renewed emphasis on engineering and technical skills in our education system is a start. Internships for college-aged workers helps as well. But most interestingly, a recent MIT Sloane Management Review
report
found 71% of digitally maturing companies say their strong digital vision is what attracts new talent.
This is because the new generation of workers have grown up in the digital age. Many have been using computers (or at least video games) since they were in diapers. They expect to interact with business software in similar ways to how they interact with consumer software in their day-to-day lives. Additionally, these workers like to work on their own terms, often from remote locations and at odd hours. They are used to working in groups and place strong value on collaboration. When deploying software that aligns with their characteristics, a manufacturer is much more likely to become a place that a modern worker wants to work.
Green screens won't work in today's talent market. Cumbersome interfaces, lack of visibility, multiple screens to click through, and reports which are difficult to customize are other obstacles the modern workforce doesn't tolerate well. If your company is having trouble attracting and retaining talent, you should evaluate the role your technology may play. Your solution should be user friendly, even pleasurable to use. Role-based homepages, embedded analytics, and intuitive navigation makes the user-experience more enjoyable. Workers don't want to have to go to IT to solve problems that should be easily fixed.
Additionally, these solutions should be collaborative. Many ERP vendors have social solutions that mirror the look and feel of social media. Not only does the new generation like working this way, but it is an effective way to store the tribal knowledge of aging workers before they move on. These solutions should also be updated in real-time and accessed from anywhere. Cloud and mobile technology supports the working habits of the new generation. With tools like these in place, your business will have a leg up in the competition for talent, in addition to the business benefits of a modern business solution.
To hear more of my predictions for the manufacturing workforce in 2018, as well as my other predictions for the manufacturing industry,
click here
.
Let's Connect
Contact us and we'll have a Business Development Representative contact you within 24 business hours