Meet product expert Daniel LaFerla at Infor TechEd for EAM 2019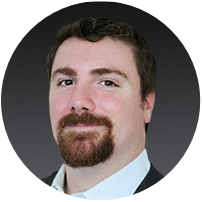 Daniel LaFerla is a solution architect with the EAM technical team who brings to this position more than a decade of experience implementing complex enterprise asset management solutions. Transitioning between functional and technical roles, Daniel has led successful deployments in defense, utilities, oil and gas, and pharmaceuticals. Working his way through high school and college in the hospitality industry, he was exposed to managing large teams and unique customer requests. Originally from western North Carolina, Daniel received his BS in MIS from Appalachian State University before traveling west to settle in San Diego, California. When not working Daniel can be found enjoying the weather on one of San Diego's many golf courses or playing billiards competitively.

Leading up to Infor TechEd for EAM on June 18-20, we spoke with Daniel about his TechEd experiences so far and his expectations for this year's event.
What session are you most excited about at EAM TechEd 2019?
I am excited to present the EAM extensible framework session. We have been working on some very interesting interactions using this middle layer technology. I expect that users of any skill level can benefit from this session as we'll cover both basic and advanced scripts and touch on the overall extensible framework. I am quite sad I won't be able to attend the Technical Q&A with Richard Moore and Chris Dupre, as I am sure there will be some great questions in that session.
What do you want attendees to take away from EAM TechEd?
From an EAM perspective, I want customers to see the deep configurability available to them in the framework provided. There is so much that you can do within the base product. I also want them to experience our wonderful customer base. Many of the attendees are willing to share their challenges and triumphs. Meeting others who may have encountered identical pain points is invaluable.
What are their major concerns, popular issues that they are facing, which obstacles are you focusing on and how do you help them to master the solution?
One of the unique aspects of EAM TechEd is having multiple experts available outside of sessions. Attendees faced several issues which one single presenter may not have been able to tackle, however, with a solid team in attendance, we were able to work together to answer their questions. The driving focus was to demonstrate the capabilities of EAM through sessions and help with details unique to each scenario on a case-by-case basis outside of the classrooms. One overarching pain point was how to handle major version upgrades, some including multiple version jumps. We had EAM product experts who were able to share their personal implementation experiences and steer customers to the best solution.
What did you learn from last year's TechEd and what will be different this year?
TechEd 2018 brought together several very talented professionals, and everyone was excited to share the wealth of knowledge from decades of combined experience. Being the inaugural EAM TechEd there were some growing pains. Most sessions were two hours long and we found that fatigued the attendees. Identifying education topics posed a unique challenge as well, as most were drawn from internal discussions and not directly from attendee and client feedback. At EAM TechEd 2019, with another year under our belt, we expect to engage the attendees with a mix of traditional and interactive sessions on topics they find interesting. We've honed the presentations to encourage learning from both seasoned technical clients and customers newly venturing into the EAM technical landscape.
Join us at Infor TechEd for EAM on June 18-20 in Denver and meet Daniel LaFerla and many more Infor product experts in person and get the answers to all your questions.
Filed Under
Asset management
Education & Transformation Services
ERP
Events
Manufacturing
Industry
Automotive
Aerospace & Defense
Chemicals
Construction
Education
Energy
Equipment
Facilities Management
Food & Beverage
High Tech & Electronics
Industrial Machinery & Equipment
Industrial Manufacturing
Logistics & 3PL
Product
Region
Worldwide
EMEA
North America
APAC
LATAM
Let's Connect
Contact us and we'll have a Business Development Representative contact you within 24 business hours