Meet the GT Nexus team at Infor TechEd Las Vegas
November 6, 2018
By Claudia Pasquet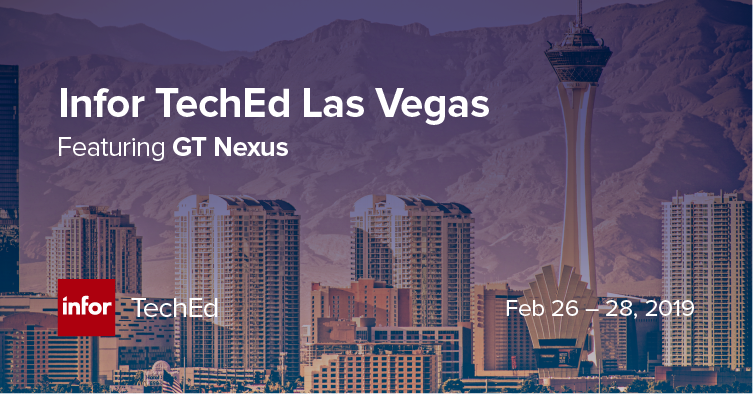 Three days. Forty+ years of expertise.
Bring your computer and your project—we'll supply the Wi-Fi and the knowledge.

Join GT Nexus product experts and developers for hands-on technical training at Infor TechEd Las Vegas, taking place Feb 26-28, 2019.
Infor TechEd offers you the opportunity to learn exactly what you need, directly from the top product experts who know GT Nexus best.
Register now for Infor TechEd Las Vegas - Registrations until December 7 will enjoy an early bird discount
Attendees will attend keynotes, deep dive training sessions, hands-on training sessions, and networking with experts. Training sessions are focused on these topics:
Report Designer
AppXpress – Express lane of app development for supply-chain partner
Supply Chain Intelligence (analytics)
Download the event flyer to see the full event agenda.

Donald Glockner, product expert and Product Manager for GT Nexus gave us a little sneak peek into the Supply Chain Intelligence track. This is what you can expect from his sessions:
The GT Nexus platform offers many ways to access your data. At first, the many options can create some confusion. This February, Infor TechEd Las Vegas 2019 will offer a unique opportunity to learn about GT Nexus directly from the developers and product experts who know the application best. We will start by building a mental model of how business intelligence (BI) platforms work (and maybe more importantly, how BI platforms don't work).
Then, leveraging our basic understanding of BI, we will explore when it is more appropriate to use flex views, the report designer, or supply chain intelligence. We will also explore the difference between a data mart and an analytical application.
Next, we'll cover the analytical features offered by Supply Chain Intelligence (SCI), which are rarely talked about in the sales cycle, and only really appreciated by those that analyze.
The features unique to SCI that we will cover are:

Metadata extensions (i.e. customer uploaded lookup tables)
Mass data exports, which are best used when a spreadsheet export just isn't the right tool for the job
Time features which help analyze your business according to your company's fiscal calendar—we'll cover dates, DateTime, and the custom calendar feature
Geography features, including ports, cities, states, countries, customer-defined regions, and custom city groupings
User-derived attributes and metrics
Once we cover the basics, we'll start building on analytics skills. We will show you how to create both basic and complex reports, as well as interactive dashboards. We will demonstrate how you can:
Automate the tedious tasks of updating the date filter, running reports and emailing analytics to stakeholders on a periodic basis
Improve report performance through better report definitions
Derive your own attributes and metrics so you can measure what you need to measure according to your business' workflows
Export data
Import your own data and connect it to GT Nexus data
Transform your imported data
Build dashboards
Choose the right visualization to convey your story
Then we will take a step back to discuss best practices in analysis. With so many opportunities to measure performance, you need to choose the metrics that will drive change. You will learn to identify the key performance indicators that will make your stakeholders take notice. We will also discuss the difference between interesting facts and actionable insights.
As you dig deeper into your data, you will notice anomalies—not from workflow inefficiencies, but from bad data. To wrap up the event, we will share tools and best practices for improving your business' data quality. After all, your analysis is only as good as the data you have to analyze.
Each participant in the session is encouraged to bring their project to work on during open sessions. Experts in business intelligence, supply chain analytics, SCI, and the GT Nexus platform will be on hand to help participants finish the report or dashboard they have been struggling with or were inspired to create by the content of the sessions.
Meet the product expert and presenter at TechEd Las Vegas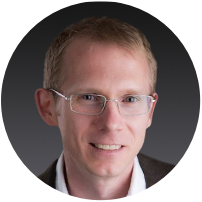 Donald Glockner | Product Manager, Infor
Donald Glockner is responsible for the Supply Chain Intelligence suite of analytical products at Infor. Donald works with supply chain partners to help them measure and understand their supply chain performance. He believes that measurement is pointless unless it leads to actionable insights for business stakeholders. He has over 20 years of analytical experience spanning finance, consumer behavior, and supply chains.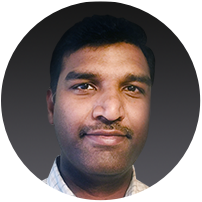 Albert Malapati
Albert Malapati is a solution expert on Supply Chain Intelligence, whose main responsibility is to understand market and customer requirements, and translate them into analytical measurements, boost performance and reduce cost. He regards aptitude in leveraging Supply Chain Intelligence as the key performance indicator of an organization's supply chain network. Albert has over 13 years of experience with the Infor GT Nexus suite of products spanning across transportation, freight spend and analytics.

Matthew Panos-Elli
Matthew Panos-Ellis is a product manager for Supply Chain Intelligence, who has for many years worked as a consultant in GT Nexus advising and delivering solutions to customers' supply chain software and workflow needs. He has over 13 years of experience with Infor GT Nexus and supply chain solutions. Matthew is an expert in coaching analysts in designing and building reports and dashboards.
Filed Under
Education & Transformation Services
Events
Industry
Let's Connect
Contact us and we'll have a Business Development Representative contact you within 24 business hours