Metal fab industry turns to IT solutions to combat complexity and volatility
There was a time when the metal fabrication industry was relatively simple. Welders and machine operators focused on a few specialized tasks: cutting, drilling, shaping, plating, assembly. Jobs were straightforward. Even custom-engineered jobs were described with some specifications, dimensions, and an attached sketch for clarification. Orders came in; products shipped out; profits added up—all without unnecessary headaches.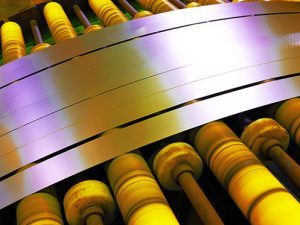 Those days are gone in many ways, for many reasons. A new era is here, and continuing change requires fabricators to embrace innovation. One way to move forward includes deploying modern ERP solutions that can keep up with escalating market pressures, product complexity, thin margins, volatile pricing on raw materials, and hard-to-predict spikes in sales.
While many fabricators—out of necessity—have managed to keep up with shop floor modernization, they have not always been as successful at keeping up with business software solutions. The fabricator's shop floor can include robotics, lasers, continuous quality control, and sensors to monitor asset performance. In the same company, workers may check machine schedules mounted on a wall and consult job packets with hand-written notes. Managers may keep track of things with clipboards, including last week's print-out of available inventory and pending customer orders. There's a stark contrast between high-tech fabrication tools and outdated business solutions.
It's understandable. Fabricators have been forced to speed job turnaround and maintain a fast pace of innovation to keep up with current processes. They've needed to invest in equipment that can help them automate tedious tasks, improve precision of critical functions, and improve safety of dangerous tasks. Shop-floor technology has been the priority.
Products today include more high-tech components, and OEM manufacturers are turning to fabricators to supply systems rather just parts. This shift demands changes in operations and investment in machine assets, like robotic welding arms, conveyors, clean rooms for electronics, and advanced material handling equipment. New business models, like late-stage assembly and modularization of products, have been enacted. Often, software has stayed the same.
Today, IT-savvy metal fabricators have realized the limitations of outdated business software and are making a move to modern ERP solutions.
Modern ERP solutions offer many benefits, including streamlining, standardizing, and speeding up strategic planning. They also have improved forecasting and a fabricator's ability to procure necessary resources. It also supports collaborating more closely with your customers to meet their demands more quickly. It means improving the visibility into processes throughout your organization to allow faster decision making, based on facts, not hunches. It means the ability to focus on the right investments to continue to expand your product lines, enhance fabrication capabilities, and attract new customers. And you can do it all without stressing your personnel and adding waste or confusion.
Another benefit is the ability to combat the volatility in raw material costs and fluctuating metal prices.
You can do this by improving your organization's ability to understand market demands with better analytics, use of data science, and capacity to forecast trends accurately. Metal fabricators are typically removed from the end-user, making it difficult to monitor the market and fulfill customers' changing needs promptly. Modern ERP solutions change that, allowing fabricators to integrate with networks, share data, and gain visibility to the complete value stream.
Achieving operational excellence allows you to increase the speed at which you can do business, engage with colleagues, and compete with global upstarts. And you can do this by deploying Infor ERP solutions, designed by industry, with built-in, last-mile functionality.
Visit our website
to learn more about Infor solutions for industrial manufacturing industries, including metal fabrication.
Download our industry solution brochure
.
View this video
to hear how Infor customer Metcam leverages Infor solutions to improve operations.
Let's Connect
Contact us and we'll have a Business Development Representative contact you within 24 business hours