Metal fabricators: 10 tools to help manage the new normal
Met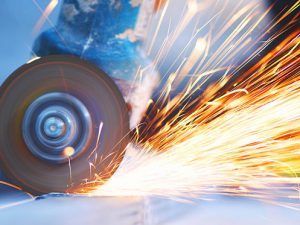 al fabricators no longer have to accept volatility as inevitable. Manufacturers can turn to IT solutions to help tame the complexity inherent in their industry, better predict needs, and control the many factors impacting margins.
Fabricators that are gearing up for growth in 2017 should take time now to perform a self-audit on existing systems and identify gaps. The new normal demands new tools to hone pricing and boost margins. Software gives manufacturers the decision-making and quoting insights they need to better meet the extreme fluctuations of the industry.
Here's a checklist of 10 software solutions that will help fabricators adapt to changing times:


Advanced inventory tracking. Accurate inventory tracking allows the fabricator to keep tight control of raw materials, stocking only the essentials. This helps free up cash, and lets the fabricator be strategic about procurement.

Performance analytics. Increasing margins starts with the use of advanced analytics so the fabricator can fully understand current margins and can monitor improvements as they are made. Analytics will also help analyze accounts profitability.

Predictive analytics. Even fluctuating trends can be predicted, and forecasts can be made to help the fabricator predict needs of raw materials based on previous seasonal and market activities. Forecasting needs will support adequate preparation.

Dashboards. Role-based dashboards and use of key performance indicators (KPIs) in business intelligence tools will also help personnel delve in the issues impacting margins, such as waste of resources and bottlenecks in processes.

Quality control. Continuous quality monitoring will help the fabricator prevent margin-sucking errors from destroying profits. Quality monitoring will also reduce scrap and keep rework to a minimum.

Customer relationship management. CRM solutions are critical for manufacturers that want to expand service offerings and build relationships. Modern CRM solutions, integrated with the enterprise solution, help track engagement with the customer, identify buying trends, and project needs.

Talent science. Managing today's workforce requires tracking training, certification levels, and experience with various machinery. Talent science solutions can help track skills required as well as help match right-skilled workers with positions.

Configuration and quoting. Inaccurate quoting based on guesses has a disastrous impact on margins. Make-to-order (MTO) and engineer-to-order (ETO) orders, particularly, create challenges. Software can manage configurations, allow customers to visualize the engineered product, and obtain an accurate bid.

Collaboration. Metal fab shops have long collaborated with customers on MTO and ETO projects. But the days of back-and-forth phone calls and long email threads have given way to the need for integrated business social tools that manage the conversation, track decisions, and provide relevant context.

Shop floor management. Fabricators will also want to turn to shop floor tools that will help them track labor, use of resources and scheduling of jobs on the various stations.

Metal fabricators can turn to a variety of software solutions to help them control the volatility and boost margins. Improving processes, streamlining activities, and enabling personnel to do their jobs effectively all add up to savings that show at the bottom line.
Let's Connect
Contact us and we'll have a Business Development Representative contact you within 24 business hours