MVP Maria Daley crafts beautiful courses for Infor Education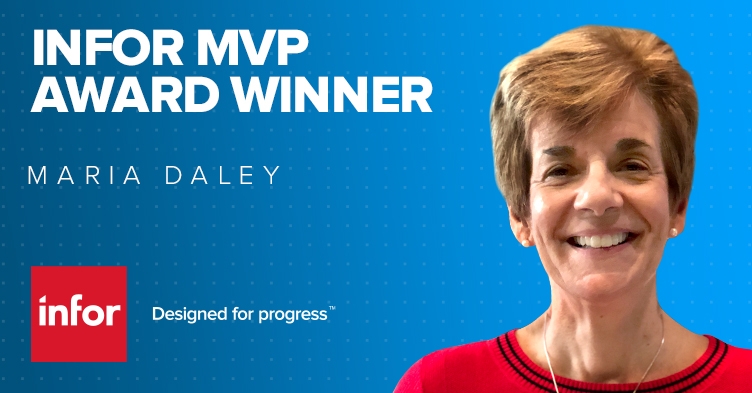 Infor Education courses don't spring up fully formed—perfectly crafted to convey deep product knowledge to ensure user proficiency. Instructional designers build them—and Maria Daley is one of our best.

When a product manager raves about her, you know she must be good: "Having Maria as instructional designer on my product is such a blessing. She has a fine sense of detail and urgency."
That's why Maria was recently nominated by her colleagues and chosen an Infor MVP.
Producing quality training materials for our customers and partners is job 1, but Maria also mentors new instructional designers joining Infor Education, tests new tools and processes, and helps establish and document new standards.
"A course kick-off call we had last week was conducted by Maria with perfection — just another example of her attention to detail. I left the meeting wishing I had recorded it so it could be shared with others who would benefit from seeing exactly the way these meetings should be done," one colleague noted. "On top of her thoroughness and consummate professionalism, she is a joy to work with, and the results speak for themselves."
Maria joined Infor as a contract senior instructional designer with Infor Education in 2013, and became a permanent employee in 2014. In 2018, she was promoted to principal instructional designer.
"The Infor core value that I try to exhibit in my work is focus on results, which I believe has contributed to my success," Maria says. "What I love about my team is that everyone supports each other when we have tight timelines or when we introduce new tools, processes, and procedures."
Maria works from her home in Southeast Georgia. She and her husband are active in Yankee Golden Retriever Rescue. "We have been rescuing senior Goldens for over 20 years."
A fitting avocation for this Infor most valuable player.
Filed Under
Education & Transformation Services
Infor culture
Let's Connect
Contact us and we'll have a Business Development Representative contact you within 24 business hours