Nationalism vs. globalization and the role of technology
Following is part 1 of a 2-part article looking at the impact of nationalism on US manufacturing.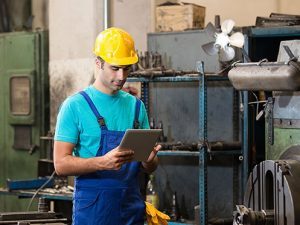 Making America productive

"Business as usual" is an obsolete mode among manufacturers. There is no system or process that hasn't been touched by the incessant waves of change. "This isn't your father's manufacturing plant" is an understatement bordering on comical.
The shifting global landscape and the rise of nationalism in the US are some of the most dramatic points of the evolution, certainly areas gaining significant attention. Ignited by political rhetoric and President Donald Trump's campaign emphasis on "Made in America" policies, the dialog can become emotion packed, rather than fact driven.
Keeping production plants and jobs in America is a complex mission, with many naysayers pointing out the jobs that left no longer exist. Technology, like robotics and automation, often gets the blame. But, how can improvements in speed and productivity be cast in a negative light?
Where did the jobs go?

US manufacturing employment peaked in the late 1970s, according to Michael Hicks of the Center for Business and Economic Research at Ball State University in Indiana. He adds that drops in employment were not all from off shoring. "95% of job losses were due to productivity improvements, including automation and computer technology, rather than trade," Hicks says in an
IndustryWeek article
.
Brookings Institution in Washington
publishes similar data, saying the total output of US manufacturing rose more than 250% from 1980 to 2015, but its workforce slumped by roughly 40% in that time.
But while the US economy is pumping out manufactured goods in record volumes, it is achieving that feat with 7.3 million fewer factory hands than in 1979, government figures show. Gains in shop floor productivity, plant automation, use of robotics, streamlined activities, and optimized processes with no waste all add to today's highly efficient model.
And the gains in productivity are dramatic. In 1980, it took 25 jobs to generate $1 million in manufacturing output in the US. Today, it takes just 6.5 jobs to generate that amount of revenue, Brookings reports.
This supports the claim that off-shoring alone can't be blamed for loss of jobs. Encouraging manufacturers to move facilities back to the US from foreign shores is only one portion of the equation.
Those skeptical about Trump's promise to bring back jobs tend to point out that the types of jobs that were lost are no longer relevant. With fewer workers needed to run plants, a massive 26% surge in manufacturing output would be needed to re-employ 7 million factory workers.
Why are jobs unfilled?

On the other hand, manufacturers are struggling to fill the vacancies left by retiring baby boomers. It's estimated over the next decade,
nearly 3½ million manufacturing
jobs will likely be needed. Of those, 2 million are expected to go unfilled. Without right-skilled personnel in place, manufacturers will be hard-pressed to keep up with technology demands.
Misconceptions about manufacturing are keeping applicants away, some say. A recent poll conducted by the
Foundation of Fabricators & Manufacturers Association
, says 52% of all teenagers report
no interest
in a manufacturing career, calling manufacturing "a dirty, dangerous place that requires little thinking or skill from its workers and offers minimal opportunity for personal growth or career advancement." Another study conducted by
Deloitte and National Association of Manufacturers (NAM)
found that only 37% of adult respondents would encourage their children to pursue a manufacturing career.
The resulting contradiction is troublesome. On one hand, President Trump is promising to bring manufacturing jobs back. On the other hand, the existing open jobs in manufacturing can't be filled because workers have misconceptions about working conditions in manufacturing, or they are unqualified for the new technology-driven skills required.
Stay tuned for the answers

In part 2, tomorrow, we will look at the ways technology can help manufacturers cope with the changing demands, forecast personnel needs, recruit right-skilled workers, and respond with agility to volatile global politics.
Let's Connect
Contact us and we'll have a Business Development Representative contact you within 24 business hours