New guests continue arriving at the auto manufacturing dinner table
Thanksgiving is next week in the U.S., and the auto industry needs to add another seat at the dinner table. This time it's for Samsung.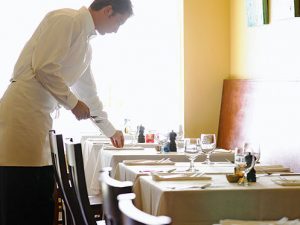 The automotive industry received Samsung's dinner RSVP on Monday when
the company announced its purchase of Harman International Industries
for $8 billion. Although Harman is well-known for its quality speakers and sound systems, Samsung noted it is most interested in Harman's connected car business.
Samsung joins a growing list of automotive industry newcomers that demand a seat at the automotive industry grownups' table. While the established automotive OEMs and suppliers may like to relegate these recent additions to the kids' table, these newcomers bring great business acumen, innovative technology, and credibility from their own high-tech and electronics industry that is more suited for the grownup conversations happening now and in the future.
A recent McKinsey & Co. presentation, "
Automotive Revolution – perspective towards 2030
," notes that "within a more complex and diversified industry landscape, incumbent players will simultaneously compete on multiple fronts and cooperate with competitors." This includes e-hailing and car-sharing providers like Zipcar, emerging OEMs like Tesla, software providers like Google, and consumer electronics developers like Apple. It is important now for both the established and newer automotive industry relatives to figure out how to get along and work well together.
After a rather steady evolution over the past decade, the automotive industry can expect disruption to become the new standard operating procedure. The auto industry will remain attractive to traditionally nonautomotive manufacturers as long as consumers continue to demand changes to the car ownership and driving experience—particularly in-car entertainment, navigation, communication, and software.
The automotive industry family keeps growing, requiring a bigger table and more chairs to accommodate everyone at those proverbial holiday dinners. Here's a toast to many productive conversations among family members new and old as they move the industry forward and meet customer expectations.
For more information on how customers are affecting automotive manufacturing, read "
Changing consumer demands put suppliers in the driver's seat
."
For more information on how Infor solutions can make it easier for you to work with both established and new suppliers, read "
Make your automotive value chain more efficient
."
Let's Connect
Contact us and we'll have a Business Development Representative contact you within 24 business hours