New leadership and organizational requirements in a customer-centric world
A 5-part series on the changing C-level foundation in manufacturing
Despite pressure to adopt disruptive technology at the speed of change, manufacturers should pause, evaluate, and modernize their organizational structure to ensure alignment with customer needs. This series looks at the changes impacting manufacturing at the executive level:


New leadership requirements

Enter the chief customer experience officer

Rocket ship to planet customer, a whole new world

The two faces of the CIO: Dr. Functional and Mr. Strategic

How CIOs can secure their place at the table

Today we explore Part 1, discussing the new leadership requirements.
Customer centricity requires organization-wide alignment
With today's phenomenal rate of change, manufacturers are frequently torn between trying to keep up with the competition and making carefully considered strategic decisions about priorities and foundational requirements. The rush for quick fixes can create disappointing results. Financial gains may be lackluster,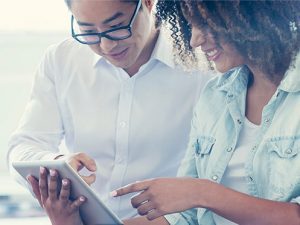 slow to produce ROI. And customers, the ultimate evaluators of success, may be bewildered by new offerings that seem off target or unimpressive.
It doesn't have to be this way

Manufacturers can take a strategic approach to improving the customer experience. They can pause in their adoption of disruptive technologies and make sure the underlying organizational structure and leadership strategies are updated. Aligning with the modern customer, whether in a B2C or B2B market, requires more than superficial changes. Simply investing in new data-based technology and service offerings, without also addressing the underlying strategy, is much like "putting lipstick on a pig."
Manufacturers are susceptible to this kind of thinking. It's tempting to bolt some glitzy new technologies onto existing infrastructures, managed by people in obsolete job titles. But, underneath, those stressed, ill-equipped organizational hierarchies will still be stressed, lacking the right skill sets, and misaligned to the needs of the current market and customer base.
Highly vocal, discerning customers will see through the guise. "Lip service" to their demands for speed, innovation, value, and exceptional experiences will most likely backfire.
Look at the core first

In this era of escalating customer demands, omni-channel shopping, social media platforms for customers, and expectations for highly personalized products and services, manufacturers face numerous stresses to their organizational efficiency and operational work flows. Few organizations can commit to top-to-bottom overhaul, so it is understandable that manufacturers must make difficult decisions and prioritize a few high-return projects. Where should modernization start?
While it is tempting to invest in high-profile new technologies, like smart products and IoT applications, manufacturers should also acknowledge that organizational change is just as important, says a recent report by Forrester,
"Dynamics that will shape the future in the age of the customer."
The report states, "CEOs and boards have become increasingly aware that making incremental changes to the business may not go far enough; doing too little or going too slowly may place their firms at risk as they compete in a customer-led, digitally driven market. The question is, how far do they need to go to get closer to the customer and avoid the complexity — and marginal results — of trying to deliver experiences to multiple customer segments across multiple products?"
Customer-driven matrix

Forrester predicts that in 2017 more than one-third of companies will begin changing their business structure to get closer to the customer and effectively compete on the basis of customer experiences. "These companies will move from functional-siloed organizations that prioritize efficiency and control to customer-driven matrix structures that also leverage shared functions to protect margin," the report states.
Aligning with the customer often calls for a new leadership structure, new job titles, a shift in the corporate culture, and redefined team goals. Customer-facing personal as well as behind-the-scenes teams need to be empowered with tools and decision-making abilities to be proactive, override policy when needed, and take decisive action on behalf of the customer.
On top of enacting customer-centric policies, the plant still must be profitable. A balance must be struck. This means new business models, revised reporting, and changes in the way success is measured. New operational hubs, modern job descriptions, and innovative tactics for recruiting, training and retaining the right-skilled workforce will be essential for manufacturers.
The CIO vs CDO
One of the titles most affected by this era of customer centricity and disruptive technologies is the chief information officer (CIO). Perceptions are mixed, with some CIOs seeming to feel this weight of responsibility as an excessive burden, often unrealistic, and not supported by investment in compensation and necessary resources. Others welcome the opportunity to seize a place among key decision makers.
In some organizations the CIO is transitioning to the chief digital officer (CDO). In other cases, the two positions sit side by side in the organizational chart, competing for clout, headcount, and resources. Opinions are mixed whether two positions are needed and how the CDO is different.
A
Huffington Post
article discusses the growing complexity of the expanding C-suite: "Defining individual roles within the C-suite has forever remained challenging. In the last few years, the distinction between the C level roles has become even narrower with the introduction of new titles such as CDO (Digital) and CDO (Data) into the mix. … These positions often intersect. It is therefore important to recognize the differences between the various positions so that companies are able to effectively allocate and manage responsibilities in an era of mounting technological and consumer demand."
A recent
article by Mark Samuels
, "Is this really the end of the CDO?," says that the role may have been overhyped and is actually dying out. Research suggests one in five organizations employ a CDO today. The proportion is up from the 17% of 2015, but represents much slower growth than was anticipated. These figures are in sharp contrast to earlier predictions. Gartner, for example, claimed a quarter of businesses would have a digital chief by 2015, and IDC said 60% of CIOs would be replaced by CDOs by 2020.
What happened? Some analysts suggest that digitalization is so critical to the organization that not just one officer is taking responsibility for the transformation, but the entire C-suite is focused on the new business, from the CEO down.
In our continuing five-part series on the changing C-level foundation in manufacturing, we will further explore the evolving roles, including the CDO and CIO.
Let's Connect
Contact us and we'll have a Business Development Representative contact you within 24 business hours