New leadership and organizational requirements in a customer-centric world: Part 2
Part 2 of a 5-part series on the changing C-level foundation in manufacturing

Despite pressure to adopt disruptive technology at the speed of change, manufacturers should pause, evaluate, and modernize their organizational structure to ensure alignment with customer needs. This series looks at the changes impacting manufacturing at the executive level:


Enter the chief customer experience officer

Rocket ship to planet customer, a whole new world

The two faces of the CIO: Dr. Functional and Mr. Strategic

How CIOs can secure their place at the table


Enter the chief customer experience officer


A title that's showing up more and more in manufacturing is the chief customer officer or chief customer experience officer.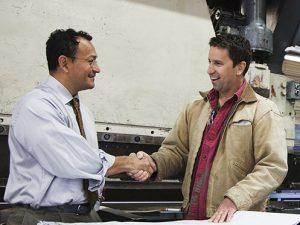 A recent article, "Why your company needs a chief customer officer," interviews the pioneer of the chief customer officer (CCO) role, Jeanne Bliss, about the importance of this changing role. Bliss held the first CCO role at Lands' End, Microsoft, Coldwell Banker, and Allstate. She has written several books on this topic, including "Chief Customer Officer 2.0."


In the interview, Bliss says a CCO is critical to organizations focusing on organic growth, the role of social media, and driving initiatives to build the company around customers' needs and priorities.


"Bringing in a CCO or a senior customer experience executive, should unite the organization to deliberately understand the entire experience, focus and prioritize resources to rebuild experiences from the customer life outward," she says. "I think it's important to recognize that this is not about customer ownership … the CCO is not the owner but the enabler of having one company perspective, uniting the leadership team and embedding competencies."

Building the organization

A special report by L.E.K., a global advisory company, suggests the key issue is the alignment to customers and the ability to shift as needed. The report calls this creating a sustainable "match-fit" organization. A match-fit organization is one that can rapidly adapt as the business landscape evolves and can compete sustainably on the global stage.


The report offers 4 points of advice for creating such an organizational foundation:

Achieve organizational simplicity
Manufacturers should move from a factory-centric view of the world to one where key functions are all focused on adding value across innovation, strategic marketing, channel management, sales, manufacturing, and supply chain. They should pivot from managing business unit profit-and-loss (P&L) statements to managing carefully chosen key performance indicators (KPIs) that encourage the right kind of performance in every part of the organization. Creating smaller, more manageable units focused on specific technologies, end markets, or geographical areas will help, along with pushing decision-making further down the organization to increase collaboration, speed, and adaptability.

Develop new organizational capabilities and skills
Manufacturers often struggle with the financial trade-offs of investing in personnel capabilities, because return on investment is difficult to measure. Some CEOs are deliberately building truly differentiated workforces by working simultaneously on resources to build leadership skills and organizational structures that support decision-making, human networks, collaboration, creative problem solving, and interfaces with colleagues and customers. Connectivity and communication are high priorities.

Attract and retain the right talent
Attracting and retaining talent has always been important, but today it is more critical—and more difficult—than ever. Not only has competition for talent intensified, but many organizations also need to bring in new and unfamiliar skill sets to remain competitive. The traditional ways of recruiting workers is no longer sufficient. Apprentice programs, in-house training, and programs to educate the community—especially young people—about the benefits of high tech jobs in manufacturing are among the tactics being used. This is a long-term issue that must continue to be a priority. Until a new generation of workers can be in place, expanding abilities, the existing workforce must be empowered to be highly productive and efficient. If the internal workforce is not able to keep up with demand, partnerships can be formed with third parties that can help supplement and collaborate, often working alongside your teams.

Transform go-to-market approaches and business models
Manufacturers must transform their go-to-market strategies and realign organizational capabilities with markets, channels, and customers. Gone are the days of simply pushing product out the factory door. Instead, CEOs are encouraging their product design, R&D, and development teams to be highly innovative, take risks, be responsive to input from customers, and constantly look for sources of differentiation, even for the most basic products and services.


Advice


In today's customer-centric landscape, manufacturers must confront many challenges and adopt new tactics to transition into the modern organization that places the customer as top priority. Simply adding a few services or product offerings will likely be seen for what it is by today's highly sophisticated, savvy purchasers. Superficial "lip service" can certainly back fire. A better approach is to take a fundamental view at the organizational structure, from job functions in the C-suite to roles on the shop floor and how front line personnel are empowered to make decisions and act on behalf of customers. The CCO title isn't what's important. It's the results. And there is only one way to tell whether new tactics are working: Ask the customer.

Check back for the next topic in the series: the changing role of the CIO.
Let's Connect
Contact us and we'll have a Business Development Representative contact you within 24 business hours