New leadership and organizational requirements in a customer-centric world: Part 4
Part 4 of a 5-part series on the changing C-level foundation in manufacturing
Despite pressure to adopt disruptive technology at the speed of change, manufacturers should pause, evaluate, and modernize their organizational structure to ensure alignment with customer needs.


The two faces of the CIO: Dr. Functional and Mr. Strategic

How CIOs can secure their place at the table

The two faces of the evolving CIO: Dr. Functional and Mr. Strategic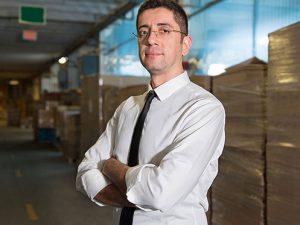 The duality of managing both functional and strategic roles seems to be the new normal for CIOs, with corporate leadership demands increasing. The article
"CIOs adjust to their new reality
" on CIO.com took a deeper dive into
IDG survey results
, and explained why evolution will continue to be complex, with some organizations thriving and some suffering from nagging growing pains.
"As technology grabs the lead role in modern business, all eyes are on the CIO's ability to lead initiatives that radically transform how companies sell products, reach customers, and drive opportunities for new revenue streams. At the same time, the digital era's wholesale dependence on technology means there's little room for the slightest hiccup in operations — resulting in another mandate on the CIO's agenda," writes CIO contributor Beth Stackpole.
While CIOs must still cover the operational tasks, the extent seems to be declining as they automate, outsource, and delegate fundamental tasks in order to absorb a more strategic role. The CIO survey shows that CIO respondents currently spend about 20% of their time on functional duties, and they expect that drop to 7% by 2020.
"Functional IT duties may not be going away, but they're being minimized to some degree, perhaps due to automation or because CIOs are just more seasoned in handling those responsibilities," says Stackpole. One interesting job responsibility that is declining is managing security. In 2016, 46% of CIOs included security in their job description. In 2017 that dropped to 41%. The likely reason is that more and more companies are handing over security to a cloud provider.
"CIOs are happily embrac­ing their evolution from order taker and implementer to strategist and busi­ness enabler," says Stackpole. This is a good thing, because the future outlook points to more strategic requirements on the horizon, including more interaction with customers and more involvement in ensuring a positive customer experience, she writes.
On the customer front, 76% of CIO respondents say they meet frequently or occasionally with custom­ers, compared to 66% in the previous year. A majority of respondents (55%) foresee an increase in the next year. In 2016, only 66% of CIOs met with customers.
Driving wholesale change

In Computer Weekly,
"The rapidly changing role of the CIO
" article suggest CIO may be the most import role in driving wholesale change. "The need for digital innovation to create a more customer-centric approach is clear. It means the CIO is arguably becoming the most important role in many companies. And it is also one of the fastest changing — something that CIOs need to come to grips with quickly, writes the article's author, Hadley Baldwin.
Baldwin even compares the role of the CIO to the third leg of a stool, with business strategy and marketing strategy being the other two. "With IT being a more central part of generating revenue and managing costs, a company's approach to IT is inextricably linked to the wider objectives of business development," he says.
This has led to a shift in the significance of the CIO, earning the CIO a seat at the strategic leadership table, a slot that was not always available in the past. "Where before a CIO's power might have come from knowing the workings of computer systems that others didn't, it is becoming more of a leadership role requiring the coordination and management of a variety of outside companies and suppliers," says Hadley.
Do you have what it takes to play a leadership role in the customer-centric manufacturing plant? Come back later this week for Part 5 in the series for actionable advice
.
Let's Connect
Contact us and we'll have a Business Development Representative contact you within 24 business hours