New study identifies digital strategy as an opportunity for dealers and rental firms
Only 4 of 10 firms surveyed said their company had a comprehensive digital or technology strategy

Digital strategy has been disrupting markets and companies for decades but despite this, only four in 10 equipment rental companies and equipment distributors recently surveyed described their digital strategy as comprehensive.

The data comes from an Infor-sponsored survey conducted by KHL Group and International Rental News fielded in November 2017. Why is it significant? Research by McKinsey has shown that bold, tightly integrated digital strategies will be the biggest differentiator between companies that win and companies that don't, and the biggest payouts will go to those that initiate digital disruptions. The research showed that companies that go on the digital offensive generate three times more revenue and profit growth than their defensive competitors.

With relatively few digitally aggressive competitors, distributors and rental companies with a comprehensive digital or technology strategy are in a good position to make an impact. Thirty percent of rental dealers and 17% of distributors have "no strategy but we're always evaluating options." Another 10% of rental dealers and 11% of distributors "consider only what we need at a given time." These firms are the most vulnerable to digital disruption.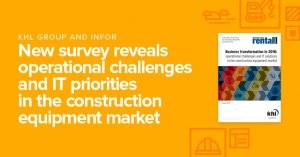 The answers to other survey questions revealed that it is more than strategy separating digital leaders from digital laggards. When managing the service department, 20% percent of respondents use clipboard and paper records of field service rounds, while 45% utilize internally created spreadsheets and schedules. Computerized Maintenance Management Systems (CMMS) were used by just 12% of respondents, (21% among rental companies). Customer Relationship Management (CRM) systems were employed by 45% of respondents.

On the positive side, there was a strong awareness of the advantages of telematic technology to help with fleet management, tracking machines on site, billing accuracy, tracking and scheduling field maintenance, and theft prevention. In addition, more than 78% of respondents foresee using IoT data for smart scheduling of equipment maintenance and repair. However, when asked about current usage of telematic and IoT data, the results were a bit surprising. Only 25% of rental company respondents indicated they currently use telematic and IoT data, compared to just over 50% of distributors.

Distributors and rental firms surveyed shared a common goal for their technology investments: increased operational efficiency. Eighty-one percent of rental firms and 72% distributors cited this as one of two primary goals. Profitability ranked second among rental firms (45%), while "enhanced customer experience/engagement" ranked second among distributors (56%).

Strategy is often cited as one of the key reasons why some firms get the return on investment they are looking for from their technology investment, while others do not. This is because digitally reimagining a business requires a clear digital strategy supported by leaders who are open to change.

The research shows the opportunity for digital transformation and competitive advantage is there for rental dealers and distributors. But the survey didn't tell us whether the leaders of these companies are willing to change, and willing to disrupt their business. What do you think? Are they ready? Download your copy of the survey report to learn more.


Source: https://www.mckinsey.com/business-functions/digital-mckinsey/our-insights/the-case-for-digital-reinvention
Industry
Equipment
Equipment Dealers Rental & Service
Let's Connect
Contact us and we'll have a Business Development Representative contact you within 24 business hours