Not just hearsay: Voice-picking is faster and more accurate
A
recent report
from Tata Consultancy Services says it best: "The 'digitalization' of markets is transforming the competitive landscape across industries to establish omni-channel marketing sales and fulfillment." But for supply chains, this massive shift is affording new opportunities
within
the warehouse as well. With a reported
60% to 70% of warehousing costs
attributed to order fulfillment, warehouse managers are under continuous pressure to increase the efficiency and accuracy of their pickers. Voice-enabled picking is one technology that is making great strides in both measures.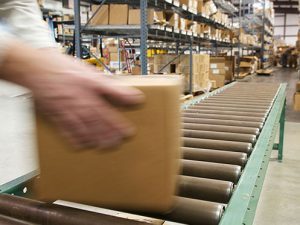 Using radio frequency (RF) wireless belt-mounted devices that incorporate speech recognition and speech synthesis technologies, voice-enabled systems can guide pickers along their routes. Pickers are told exactly what to pick, and they confirm their selections verbally. The confirmations flow into the warehouse management system (WMS) and update customers' ERP systems in real time. All of this translates into significant performance improvements as well as greater visibility into inventory. It also lowers administrative costs, as there are no picking lists or labels to print.
By eliminating many sources of human error, voice-enabled systems can boost picking accuracy to nearly 100%. And any errors that do occur can be traced easily for rapid resolution with warehouse customers thanks to the integration with the WMS.
Although it may seem that these systems aim to turn the human picker into an automaton, users find it actually reduces stress. As they get up to speed, new workers don't have to worry as much about making costly errors. Managers, for their part, like the shorter training periods and the ongoing support that the devices provide, such as answering user questions in mid-task. They also like the improved safety: With no scanners or paper lists to check, pickers' hands and eyes are completely free to engage in picking. Some managers use voice-enabled WMS to monitor individual employee performance; others analyze aggregate performance data to adjust work routines and hiring requirements.
Unlike some other technology deployments, voice enablement is not a major undertaking. Already a feature of leading warehousing and supply chain management systems, it's simply the way picking is going to be done, when it has to be done by humans.
To read more about voice-enablement,
download the how-to guide: "5 ways to optimize your warehouse costs with voice-enablement tools
."
Let's Connect
Contact us and we'll have a Business Development Representative contact you within 24 business hours