Perfecting product labeling: The first step toward deeper customer connection
Ever-increasing requirements around labeling compliance can present a daunting challenge for food and beverage companies. Not only is there an ever-present need to keep up with rules that are subject to seemingly endless changes, the consequences for labeling mistakes can be severe.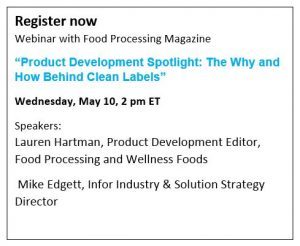 Product recalls, damage to a brand's reputation, and possible litigation are just some of the concerns that make accurate product labeling a fundamental business priority. Without the right tools and processes, the potential for costly errors is a constant threat—so much so that labeling errors often account for over 40% of US Department of Agriculture recalls.
What's in a label?
As part of the US Food and Drug Administration (FDA)'s overall objective to protect consumers, the agency's regulations around food manufacturing can be broken into two categories: food safety and labeling.
While efforts around these categories share similar goals, regulations around food safety are specifically designed to prevent the manufacturing of contaminated foods. Labeling is all about helping consumers make informed decisions, while also preventing consumption of ingredients that could be harmful to individuals, such as allergens.
In the US, food labels must state:


Name of the food

Amount of product

Name and address of the manufacturer and packer or distributor

Ingredients

Presence of specified allergens

To enhance clarity, there are also specific rules about how and where to place the list, the size of the font and other factors, such as sufficient contrast and using "common or usual" terminology to make it easy for consumers to understand.
But even large and experienced companies with stringent processes and sophisticated systems can sometimes get it wrong. In October 2016, for example, Kraft Heinz Co. recalled 959 pounds of ready-to-eat Lunchables® Ham and American Cracker Stackers due to undeclared wheat and soy on the product label.
In a global supply chain, where ingredients are sourced from a wider range of countries, the need to keep track of even the smallest trace of allergens becomes far more difficult.
New markets and new rules
Keeping up with legislation can be difficult—especially when what is current and correct today may be completely different tomorrow. This becomes even more complex when manufacturers enter the global marketplace or look for new vertical opportunities.
The challenge is not limited to retail. The FDA will soon require restaurants and food service establishments to provide basic nutritional information on their menus. This also affects restaurant suppliers.
A world of regulation
Companies that export overseas are subject to even more rules. In addition to keeping up with compliance changes at home, these companies must also satisfy the demands of each country into which they export. For example, 64 countries already require genetically modified organism GMO labels—and each country has its own laws and definitions of GMO ingredients. As of December 2016, all food labels in the European Union (EU) must now comply with a new set of stringent regulations. Although these rules are based on international standards, there are some key differences between countries.
Substantiate your claims
In addition to the mandated label information, manufacturers have the option to add on-package messages that promote product attributes. Largely driven by marketing pressures, these claims are under constant scrutiny by government bodies, consumer groups, and competitors. Failure to substantiate a product claim can result in product recalls, harsh penalties, and potential litigation.
The growth of organic
"Organic" is very popular claim these days. The phenomenal growth in organic produce is reflected in a survey by the Organic Trade Association, which found that total organic product sales in the US hit a new benchmark of $43.3 billion in 2015.
As more food manufacturers produce organic products in the US, it becomes increasingly important for authorities to enforce regulatory certification provided by the USDA's National Organic Program. To remain compliant, companies must undertake meticulous examination of ingredients, production methods, storage, processing, packaging, and shipping.
What customers look for
Targeting market segments by claiming additional product attributes, such as "vegetarian" and "gluten free" can increase appeal to specific groups, while statements like "sugar-free" or "less than 1% fat" can also cater to specific demand.
More of everything
The constant push to innovate adds additional pressure to already complex compliance issues. New varieties, new flavors, new ingredients, and new package sizes are just some ways manufacturers explore niche opportunities in an environment where differentiation is key to success. The resulting proliferation in SKUs, however, directly correlates with labeling complexity. A new list of items means a new list of potential errors.
A change in the value equation
While consumers have historically made decisions based on traditional drivers such as taste, price, and convenience, this is no longer necessarily the case. A survey by Deloitte reports that almost half of consumers interviewed were significantly influenced by a set of evolving drivers that include: health and wellness, which has attributes such as nutrition content, organic production, and fewer artificial ingredients; food safety, which includes aspects such as the exclusion of allergens, fewer ingredients, and accurate labeling; and social impact, which includes local sourcing, sustainability, animal welfare, and fair treatment of employees.
Everything in one place
Food and beverage companies that rely on paper-based or manual processes to meet regulations and consumer demands can find labeling challenges overwhelming.
For formula-based companies to meet their objectives, they need to capture and store all relevant data on a common platform. This is where an integrated product lifecycle management (PLM) solution becomes invaluable.
As the backbone of an organization's manufacturing process, a PLM solution consolidates all product-related information, such as suppliers, raw materials, ingredients, and formulas into a single, accurate database. With this data directly linked to a labeling module, all relevant information can be automatically and accurately reflected. And because regulations are also contained in the repository, everything from rules and exemptions to content and placement can be seamlessly incorporated into the database.
All product data contained in a central database
Beyond helping ensure you maintain label compliance, a PLM solution can offer the most efficient means for fast and cost-effective product development. By examining data in the PLM system, you can quickly see when a downstream piece of information needs to be updated. With a flexible PLM solution, you can assess formulas at any time. For instance, when a new regulation is suddenly announced, you can quickly see how many products are affected and automatically alter the formula for all those products.
A PLM solution can help break down silos of information within your organization and foster a two-way flow of data between people and departments. And by using an advanced PLM solution to share information with your suppliers, you can even extend collaboration across your entire value chain. When you share selected databases with suppliers, you no longer need to manually enter ingredients. Instead, this information can be added to the system at source, placing responsibility on that supplier to provide data that is accurate and current. Achieve compliance faster with cloud-based PLM, part of an overall digital transformation strategy. The option of cloud deployment offers substantial advantages for data consolidation and labeling compliance.
Reduce your costs

Minimal upfront investment, simple implementation, less application management, and hassle-free adoption makes a cloud solution your most cost-effective path to compliance.
Grow with demand

Unlimited capacity for the storage and analysis of data on suppliers, ingredients, formulas, and regulations help you keep up with new and changing demands.
Expand and share

With real-time data that's accessible anytime, anywhere, it's easier to expand to new locations and share product information with suppliers across your value chain.
Get closer to your customers

With all the changes in consumer awareness around health, food safety, and ethical manufacturing, you can uncovers valuable ways to create deeper, closer customer relationships through PLM functionality.
Because the solution is a central repository for all product information, it's also the foundation for "the story behind the label" that today's customers actively seek out. By pulling data like ingredients, factory working conditions, and sustainability initiatives, and making this available through online platforms, PLM's information reservoir can play a central role increasing transparency and developing trust.
Let's Connect
Contact us and we'll have a Business Development Representative contact you within 24 business hours