Pharmaceutical and biotech transformation: think short term
When we talk about the path to digital transformation, the conversation invariably involves statements around addressing issues and realizing new opportunities.
What we don't hear much about is how we go about achieving it.
Let's examine some specific benefits digital transformation can deliver, and consider an approach to embarking on an effective strategy.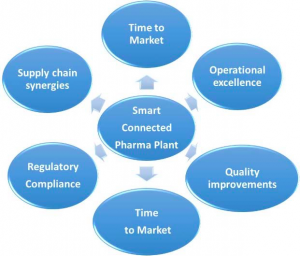 In the context of pharmaceutical and biotech manufacturing, digital transformation connects every aspect of your business through a digital thread of information by having the right technology.
Let's look first at just three important ways you can gain advantage through digital connectivity.


Increased visibility. With tools that help you break down silos of data and integrate across your organization and with partners, you'll foster more intelligent problem solving, increase the accuracy of inventory and maintain product quality.

Faster time to market. Complementing vertical models with a network of suppliers, who offer everything from clinical trials through to full production, can add tremendous capability to your output by helping to implement processes more quickly.

Accurate compliance. By centralizing every aspect of your operations such as automation tools, documentation, policies, procedures, tracking, version controls and regulations for different countries, you'll be more confident in your products, and more quickly achieve proper compliance.

How to get there
A
report by McKinsey
points out that most pharma companies have some digital capability, but these are often too disparate to gain any significant traction or impact.
Without a consolidated strategy, certain barriers related to funding, senior management support, and—most importantly—inflexible legacy IT systems result.
The best place to start, therefore, is to identify just one or two areas, and measure your achievements against realistic short-term goals.
That way, the project will receive the attention and support it needs and, if successful, the model can be rolled out across your enterprise.
The areas chosen should be aimed at addressing current pressing issues or an immediate opportunity, and should involve the 'ownership' by a key executive.
As an example, you could decide to enhance visibility between just two departments so you can implement different processes in parallel rather than sequentially.
Or you may prefer to focus on collaboration with your supply chain to foster shared responsibility around compliance and regulations.
Whatever area you choose to invest in, by approaching each planned stage carefully, you'll increase your chance of success through a consolidated and focused process.
This careful approach will, in turn, generate the support required to drive the next stage of your journey, and you'll be well on your way towards a more digitally connected, future-ready business.
Take the first step.
Download the ARC white paper
on digital transformation for pharmaceutical and biotech companies.
Let's Connect
Contact us and we'll have a Business Development Representative contact you within 24 business hours