Predicting future trends for manufacturing workforce in 2018
As industry experts draft their annual forecasts for the new year, the escalating skills gaps and difficulty recruiting and retaining skilled workers are some of the most talked about topics among the manufacturing pundits. It will also be one of the topics in an upcoming
Infor webinar with IndustryWeek
While signs clearly indicate manufacturers will continue to face shortages of skilled workers and struggle to staff up for growth and digital demands, there is not one solution emerging as the clear, optimal remedy. That may be part of the problem. Industry experts simply don't always agree on how to solve this multi-prong problem.
The issue is complex with multiple driving factors. This means the solutions must also address many components and require a big-picture, strategic approach, as well as tactical fixes to help manufacturers cope with day-to-day issues they face now. Technology provides some very effective solutions and tools that manufacturers can use to make the most of their existing workforce and attract new workers.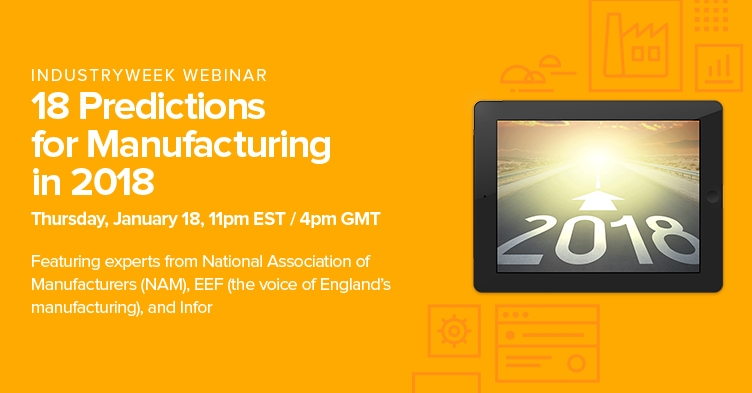 On January 18, Infor will be participating in an IndustryWeek webinar on the top 18 Predictions for manufacturing in 2018. The changing workforce will be included in the presentation by Nick Castellana, Director of Industry and Product Strategy for Infor Discrete Manufacturing. Predictions for the magnitude of the skills gap and how manufacturers will cope with it will be covered.
Click here to register.
Nick will be referencing some of the research and whitepapers being written on the topic, as professionals from across the industry turn to this critical issue. Some examples:
In the "Structure of Work" category, experts collectively point to collaboration as a key focus in 2018. In a recent report,
Workforce.com
predicted, "There will be an increased focus on infrastructures—such as social networks and wikis—to support building strong relationships and collaboration." The article went on to predict novel work arrangements will be increasingly important, saying, "The structure of work will become more adaptive, more informal and less focused on formal structure and static design solutions."
Deloitte
also offers predictions. "During the next 18 to 24 months, expect more companies to embrace the emerging no-collar workforce trend by redesigning jobs and reimagining how work gets done in a hybrid human-and-machine environment." Deloitte defines the no-collar workforce as humans and machines in one loop—collaborating in roles and new talent models.
Forbes
also provides some astute observations and offers top HR Trends to watch is 2018, saying, "2018 will finally be a year where leaders start to focus on developing the 'Employee Experience,' an ecosystem that integrates three core dimensions: engagement, culture and performance management."
Josh Bersin, a Deloitte analyst,
shares his perspective
, saying, "Just as many digital disruptors have toppled businesses in travel, retail, and other industries, we should essentially 'topple' our HR thinking with the adoption of digital solutions," he says. "HR organizations now have to learn how to 'be digital,' not just 'buy digital products."
The
Forbes
article, "People Analytics Entering Organization Structures," says, "What was once a technical discipline owned by data specialists, people analytics is now a business, as well as a managerial discipline. This means that in 2018, more organizations would evolve a people analytics function, with the attendant challenges of prioritizing numerous data requests, merging multiple data sources with disparate organizational stakeholder."
The Forbes article also explores the impact of the so-called
Gig Economy
, a term which refers to the growing prevalence of entrepreneurial individuals who prefer contract work or "gigs" rather than being locked into full-time positions. "Talent sourcing practices need to build speed and agility in order to quickly identify work/projects in need of attention, source employees with the required skills, and staff project teams that can quickly perform the necessary task," the article says. Manufacturers may especially find this "hire as as-needed" mind-set useful as they gear up new projects, such as Internet of Things (IoT) applications.
Predictions for the modern workforce are just some of the trends that be addressed in the
January 18 webinar.
Join us to learn more about what the future holds for manufacturers as they ramp up for the digital era.
Let's Connect
Contact us and we'll have a Business Development Representative contact you within 24 business hours