Predictions for 2017: 10 critical business drivers compelling manufacturers to double down on cloud
The following is an interview with Lisa Pope, senior vice president, Infor CloudSuite, discussing the importance of cloud-based IT deployments to help manufacturers achieve their growth goals in 2017 and beyond.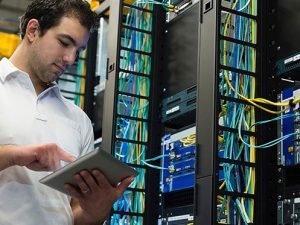 The stakes are high. Manufacturers have faced steadily-increasing expectations from customers, partners, and suppliers, with global competition also adding pressures. Just to stay in the game, manufacturers must have a wide range of IT tools in their hands. While cloud deployment was once viewed as a wild card, now manufacturers are recognizing that it is the "sure bet" that makes it possible to confidently double down on growth.
Cloud deployment is not only a logical choice of growth-focused companies, it is also essential for any enterprise that wants to modernize and take advantage of new technologies, such as digitalization and the Internet of Things. More and more manufacturers are making the shift, says Lisa Pope.
"We've seen a steady uptick in manufacturers turning to cloud deployment over the past three years, but now we have reached a point where the business benefits are so obvious that manufacturers are letting go of any residual hesitation and now even moving mission-critical applications to a SaaS platform," Pope says.
It's been a long and winding road to this point. The manufacturing industry has a history of reluctance to make the cloud move. Often, the resistance stemmed not from a negative view of SaaS, but from a company's deep-seated commitment to its legacy on-premise solution.
"It was easy to understand their predicament. Manufacturers had invested heavily in their ERP systems with extensive modifications," says Pope. "They were trying to meet user demand for certain unique processes that had become firmly cemented in the company culture. They were concerned about breaking away from the steps they knew so well." Those old processes, often being replaced by digitalization, are no longer such a priority.
Some manufacturers have tested the waters with hybrid solutions which put edge applications, like salesforce management or expense management, in the cloud but kept the critical ERP on premise. "That gave many manufacturers a chance to get comfortable with the SaaS model and to see for themselves that handing over the day-to-day management of servers, security, and upgrades was a relief, not a loss of control. It allowed CIO and IT directors to focus on more strategic issues," says Pope.
Now, as manufacturers face complete upheaval and a revolution of redefined best practices, it makes sense to take a fresh look at the benefits of cloud deployment, Pope says. She adds that several business drivers all point to the necessity of cloud deployment, making it a choice that is hard to bypass. Some of the drivers include:


The rise of digitalization is the critical tipping point pushing manufacturers to cloud solutions. Many components of digitalization, such as predictive analytics, Internet of Things connectivity, and tracking of data from sensors, requires the elasticity and vast storage capacity that cloud solutions offer. "Digitalization and cloud solutions certainly go hand-in-hand," says Pope. "Manufacturers are finding that as they are incorporating the disruptive technologies of digitalization, it also makes sense to move their core solutions to the cloud at the same time. One supports the other."

Need for network visibility that extends beyond the four walls will be a major driver in the coming year, pointing manufacturers to cloud solutions, says Pope. "Manufacturers are realizing that to compete in today's global economy, they must take advantage of a smart supply network and integrated connection of vendors, suppliers, partners, and contractors," she adds. Cloud solutions make that visibility practical and easy to manage with far more agility than an on-premise solution.

Acquisitions and divestitures are creating a need for rapid response and set up of new organizations. Manufacturers simply cannot go through a two-year implementation process to integrate the new organization to an existing on-premise ERP. Cloud solutions require weeks, not years, for implementation, supporting rapid change.

Demand for an enhanced user experience, particularly from the millennial workforce, is also a factor compelling manufacturers to turn to the SaaS model. Because cloud solutions are continually updated by the provider, they tend to feature modern user interfaces and consumer-like usability.

Concern over security is a pressing issue for many manufacturers. Most CFOs, who ultimately own the risk, have come to realize that they have limited capabilities, and they would prefer to let experts who focus mass resources on security to assume this critical responsibility. "Manufacturers have learned it makes sense for them to focus on their core competencies and to turn over issues like to security to someone who specializes in it," says Pope.

The lingering skills gap and trouble recruiting right-skilled IT technicians reinforce the logic of letting an outside resource manage the day-to-day management of servers, back-ups, and upgrades. Amazon Web Services, the provider that Infor leverages for CloudSuites, can hire the best of the best and apply those talents globally. "An individual manufacturer likely will be challenged to recruit and retain the same level of expertise, especially if the facility is located outside of a technology hub," says Pope.

Limited cash flow affects many manufacturers today as they steadily work through replacing or upgrading in-plant equipment that has been pushed past its prime. The recent recession taxed cash reserves causing manufacturers to delay investment in equipment. This makes cloud's subscription model and lower total cost of ownership (TCO) attractive to cash-strapped manufacturers.

The demand for enhanced customer experiences is causing manufacturers to add portals for collaboration, product personalization, and e-commerce, all of which are easily supported by SaaS solutions.

Vertical-specific functionality that is already built into the ERP solution has made the dependence on modifications unnecessary. "Infor provides CloudSuites, which have the deep domain functionality built right in. It's the same type of best-practice workflows that manufacturers, at one time, had to add through modifications," says Pope. "Now, that critical functionality is already there."

Extensibility provides the ability to personalize features of the solution such as reports, dashboards, and forms, removing any concerns about the lack of modifications and reassuring manufacturers that they can personalize workflows, even on SaaS solutions.

These business cases, each compelling on their own, combine to create one very persuasive story for manufacturers. Pope asks, "Why wouldn't you want to be in the cloud?" This is the question manufacturers who are still on the fence about SaaS platforms will need to ask themselves. Or, they may find they have fallen far behind the competition, left on the road to obsolescence.
Learn more about
Infor CloudSuites
, including solutions for manufacturing.
___________________________________________________________________________________
Join us! Webinar on Tuesday, Jan 17, 11 a.m. ESTLearn more about predictions for 2017:
Manufacturing flash forward: A webinar previewing 2017's top 17 issues in 17 minutes

We've challenged three industry insiders to provide 17 predictions for 2017 in 17 minutes or less.
Why? To underscore the crazy, breakneck speed of change happening in manufacturing. The whirlwind is relentless, dangerous, and exciting. Can our experts step up to the challenge? Can you do the same? Does your organization have what it takes to thrive in this highly charged atmosphere?
Join us for this webinar to learn more about the systems, equipment, processes, workforce, and IT solutions you'll need as 2017 ramps up and takes off.
Presenters: Brian Raymond

Director, Innovation Policy
National Association of Manufacturers (NAM)
Lee Hopley

Chief Economist
EEF, the voice of UK manufacturing and engineering

Mark Humphlett

Senior Director, Industry & Product Strategy
Infor
Register today.
Let's Connect
Contact us and we'll have a Business Development Representative contact you within 24 business hours