Predictions for the 2017 manufacturing revolution
As manufacturers take a collective year-end sigh, pause, and reflect on the state of manufacturing, thoughts naturally turn to predictions for 2017. Will the coming year bring even more out-of-the-blue start-ups with simple yet complex notions that rattle the foundational precepts of what it means to manufacture a product? What is next? An interview with Denise Hazaga, Infor VP of Global Business Consulting, provides an insider's view on the next waves of change on the horizon and steps manufacturers should take to keep pace.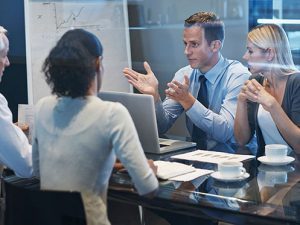 2016 was a year dominated by new concepts, innovative thinking, and media buzz about digitalization, the Internet of Things, data science, and global supply chains. The term Industry 4.0 encompasses a wide range of advanced technologies being harnessed for a new era in customer-centricity, speed, value, and smart products. It's an exciting and confusing time to be in manufacturing. Are manufacturers ready to fully engage? Are they willing to invest time and capital in IT solutions to make digitalization a reality?


According to Hazaga, who leads a worldwide team of consultants, manufacturers are ready to execute on the vision.


"Manufacturers certainly grasp the concept of digitalization, and acknowledge they need to modernize. They are past the readiness phase, and now moving toward figuring out how to get the job done. That is no easy task, though," she says.


Enterprises are discovering there is no simple add-on layer that instantly transforms a traditional system into one that overnight connects devices, digests sensor readings, automates responses, and provides data-related services to customers. In short, there is no easy button or switch to flip that turns the IoT light on.


"Of course, there are platforms (like Infor CloudSuite digital), but manufacturers must also go through a transition phase where they develop a strategy about how they want to use the 22 million signals a minute, and how they want to turn the oceans of data into a tangible value—for them and their customer," Hazaga adds.


Understanding why comes before developing how to make it happen.


She also explains that there are essential prerequisites, the multiple "steps 0" before manufacturers can fully execute and reap benefits.

Cloud deployment is, undoubtedly, the place to begin. Without the elasticity of the cloud, the storage and sorting of data points collected from sensors embedded in products, vehicles, and machines—the cornerstone of digitalization—would be impossible. Manufacturers would have to build massive warehouses just to hold the servers to keep their data on premise. "It just isn't logical to attempt a significant Internet of Things initiative without cloud storage," Hazaga says with confidence and a tone of experience.

Workforce readiness is the next precursor to address, especially as it applies to the IT department. Data science, system security, and solution integration and testing are all critical issues manufacturers must be able to manage as they move toward digitalization. These are not small, inconsequential tasks that can be absorbed by overworked administration or entry-level recruits.


Unfortunately, the lingering skills gap, generally attributed to retiring baby boomers, isn't likely to be resolved in the near future. Finding highly skilled IT technicians who are ready, able, and willing to work in the manufacturing sector is a challenge. Creating a new pool of candidates takes the fundamental refocus on science, technology, engineering and math (STEM) courses in the education system and changing negative perceptions about jobs in manufacturing. That will take time.


Until then, Hazaga recommends, manufacturers can turn to technology partners, such as Infor Services, to supplement their internal teams. "We can be an adjacent pool to the manufacturer's own team, helping with capacity overload and providing advice on integration, security, and testing."

A strong ERP foundation is the third prerequisite manufacturers need, according to Hazaga. But she says implementing a next-generation ERP solution can actually happen in parallel with creating the digitalization framework.


"Addressing both fronts at once can give the enterprise some rapid fixes and quick wins that can actually help fund the larger project," says Hazaga. "We can put some one-two punches in place that will help the organization see rapid ROI and, ultimately, strengthen the commitment to the process."


As an example, Hazaga describes a plane manufacturer may move toward a business model where it actually retains ownership of the plane and provides "in-flight hours" to the customer rather than the physical aircraft. Selling the end result rather the product is a concept that is gaining traction. This is a new way of thinking about manufacturing and providing value to the customer.


"This business model has many advantages, but it also includes forging new types of relationships, partnerships, and cash flows. It requires collaboration, from suppliers through distributors, logistics, dealers, rental and service companies, Hazaga says." In the end, everyone benefits, including the final consumer.


Reaching that destination will be a journey with many steps. There is only one certainty: Manufacturers must begin the journey and soon. Having a team of service consultants to provide direction and support will make the entire process much easier.


Learn more about Infor Services.
Let's Connect
Contact us and we'll have a Business Development Representative contact you within 24 business hours