Predictive maintenance adds years to equipment life, and life to those years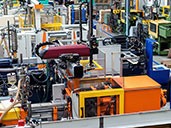 With the rise of digital systems and Internet of Things (IoT) technologies, predictive maintenance has become not only practical but critical as a way to optimize operations and reduce costs.

It's hard to think of a better time to be responsible for asset management in any commercial or industrial organization—because it turns out that the steps you take to run your devices and equipment more efficiently also optimize your initial investment, by keeping those units running for longer than they otherwise would have.

For the first time ever, according to a new article in Industrial Maintenance & Plant Operations magazine, you can have it all: You can simultaneously add years to the life of assets that are expensive and time-consuming to replace, while at the same time adding life to their years.

Saving $50 Billion Per Year
The stakes are high. Until recently, plant managers walked a constant tightrope, never quite knowing for sure when a particular device would fail. They could replace parts while they were still working, then second-guess what might have been a needless expense. Or wait for a failure and second-guess the downtime, the potential safety hazard, and the risk to the equipment itself.

Across the U.S. economy, those costs are still monumental: according to supply chain consultants at Deloitte, unplanned downtime cost industrial manufacturers $50 billion last year and reduced productive capacity by five to 20%.

The availability of smart, connected technologies has finally made predictive maintenance available to smaller and mid-sized companies. But gathering more and better insights is just the first step in the process. There's no point collecting data without a clear picture of why it matters and what you plan to do with it.

How to Predict the Future
With real-time data and the right analytic capability, businesses can cut maintenance planning time by 20 to 50%, boost equipment up time by 10 to 20%, and reduce maintenance costs by up to 10%. And there are secondary benefits that any manager should want to take advantage of.

"A defective device might just stop working, but an essential piece of equipment operating below its optimal performance can turn out a substandard product and undercut a company's brand reputation," the article notes. "A smart predictive maintenance strategy reduces downtime, maximizes quality, and helps a manufacturer differentiate itself in a competitive marketplace."

Also essential are the internal changes in established business processes that help companies take full advantage of the EAM software they acquire.

"Without the foundational building blocks of process and people in place, investment in technology is not likely to yield the desired results," a Deloitte study quoted in the article noted. "All of the sensors and smart devices in the world are useless unless maintainers know what the values they are reporting mean."


Product
CloudSuite Facilities Management
Infor EAM
Region
Let's Connect
Contact us and we'll have a Business Development Representative contact you within 24 business hours