Productivity booster: Brush off your Lean program plan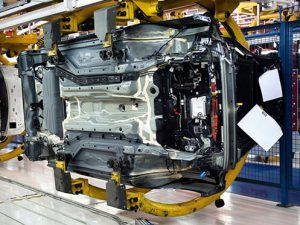 When Lean manufacturing concepts first gained attention in western manufacturing, ERP solutions were entirely different than they are today. In those early days of Lean adoption, some purists considered ERP solutions as secondary tactics for reducing waste. Today, almost 30 years later, modern ERP solutions for manufacturing have dramatically evolved, and manufacturers are once again looking for ways to redefine their processes. That makes this the ideal time to dust off and brush up on your Lean programs.
The Lean perspective
The Lean manufacturing model stresses reduction of waste. The concept has become a standard, well accepted best practice in manufacturing worldwide. Modern ERP solutions, too, are widely accepted as the backbone of a manufacturing plant's IT framework. But, some plant managers ask, can the two different strategies interact? Is the Lean concept compatible with typical ERP workflows?
As manufacturers brace for the surge of innovation and change that digitalization promises to bring, managers should take the time to consider strategic questions such as these to confirm that they're using all available resources wisely. This era of rebuilding is the ideal time to examine the role ERP solutions play in achieving a Lean environment.
Lean is a business model designed to remove waste from a business and improve productivity. It has its origins in the Toyota Production System (TPS), which was developed in the 1940s to 1970s and migrated to western manufacturing in the 1980s.
By late 1990s, the concept had taken hold and become the default best practice for profit-focused manufacturers that wanted to streamline their operations. This makes sense since Lean initiatives in manufacturing typically focus is on continuous improvement, reducing unnecessary steps and minimizing "over design" of equipment and systems. Lean manufacturing places value on simplicity and taking the shortest, most direct path to the end goal: providing customers with value.
The ERP perspective

As disruptive technologies and global market pressures make manufacturing more complicated, some lean purists find fault in the depth of data management and highly detailed analytics that modern ERP solutions offer. Lean concepts tend to eliminate steps. ERP solutions tend to streamline, manage, and provide contextual relevancy for data. The depth of detail is available for the times when advanced strategic planning, predictive trends, and account-based analyses are needed. The layers of data are managed, not eliminated, for roles and situations that require more thorough research.
The message that ERP systems support lean transformations is not always readily accepted by Lean practitioners, who often insist that simple planning and control systems are sufficient. In today's complex market conditions, though, most manufacturers have come to see the need the advanced capabilities the ERP solutions bring. That doesn't mean they can't still apply Lean ideology.
Execute Lean strategies

ERP solutions and Lean concepts can coexist and complement each other. A Lean philosophy, alone, is not enough. Manufacturing plants need to turn to ERP solutions to act out their Lean visions. ERP solutions help the workforce make well-informed decisions to support the Lean strategy. Contextual, well-organized data that is role-based is pushed to personnel as actions are needed so staff throughout the organization can apply the Lean philosophy of simplify and reduce. When possible, the system automates tasks and eliminates the need for manual, repetitive actions, boosting productivity. This frees up time for more strategic activities or building customer relationships. Users, no matter where they are in the organization, can be more proactive and attentive to addressing the overarching Lean issues, such as providing value and service to customers.
Escalate issues
ERP solutions can also help identify and escalate issues that are non-compliant and outside of the defined Lean parameters, such as budgeted use of resources, margin projections, and just-in-time inventory standards. When abnormalities occur, the system can take action quickly, without waiting for personnel to notice or react. For example, when in-stock quantities approach minimum level, alerts can be sent to staff and supervisors, signaling the need for immediate action. This timeliness and "watchdog" effect helps keep departments within Lean guidelines, 24/7, complementing Lean strategies.
Prevent over production

Eliminating waste is one of the original concepts of lean manufacturing. This applies to all resources, from labor to raw materials and machine capacity. Modern ERP solutions for manufacturing can eliminate waste in operations processes, from over-producing inventory to overstaffing the shop floor. Predictive abilities in advanced analytics allow manufacturers to accurately predict trends and be better able to accurately plan needs. Stockpiling of inventory "just in case" is no longer required to cover unexpected spikes. Manufacturers can now trust data and be confident in the projected needs.
Support continuous improvement

All successful Lean practitioners are also well versed in the principles of continuous improvement. Capturing, monitoring, and making ongoing improvement to quality standards are important points in the Lean philosophy. ERP solutions support these efforts by providing the data, putting it into meaningful context, and allowing users to drill into cause-effect relationships behind the data. Modern ERP solutions, with built-in deep analytics, enable users to view the driving factors behind a blip in the quality trend report and hunt for possible influences. Once those driving factors are identified, new performance metrics can be set to closely monitor for the warning signs.
Actions and processes can be amended until the desired results are achieved. This flexibility easily supports a continuous improvement model. The ease of use of analytics and self-service reporting also put continuous improvement tools in the hands of more users in the organization. From the customer service agent who answers calls, to the account manager and the scheduling clerk, personnel can drill into order details and be mindful of quality issues, control waste, and productivity improvement. The entire organization can be measured by the same standards and strive to meet the same quality and productivity goals.
This shared visibility brings insights and supports a team effort for continuous improvement. If you haven't looked at your Lean programs recently, now is the perfect time to brush up on your Lean jargon, modernize processes, and find ways your Lean strategy can work hand-in-hand with your ERP solution. With some out-of-the-box thinking, the two concepts can complement each other well.
Let's Connect
Contact us and we'll have a Business Development Representative contact you within 24 business hours