Productivity means profit for food companies
Over the last century, the world's population has quadrupled.
According to the
Harvard Business Review,
in 1915 there were 1.8 billion people on the planet, while today there are 7.3 billion—and we may reach 9.7 billion by 2050.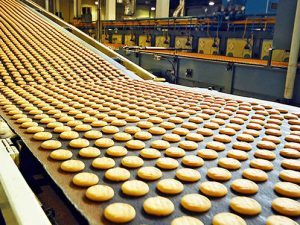 While this trend creates new demand for food products, especially in emerging markets, it comes with greater complexity and risk.
More disparate supply chains, tougher competition and the rising cost of raw materials to name a few. Then there are added issues around food safety, allergens and ethical manufacturing.
To explore new opportunities in this volatile environment food companies must first be prepared.
Without the tools that increase productivity, a focus on growth may well create excessive costs that can easily spiral out of control.
And in an industry characterized by small margins, the balance between output and input costs can be the difference between success and failure.
Reap the rewards of digital technology
As the backbone of a food processing business an industry-specific software solution consolidates all aspects of your operations, including product planning, development, manufacturing, sales and marketing, HR and finance.
It can help you increase your volume and contain your costs in five important ways:


Get more from your team. By freeing your employees from inefficient business processes, they naturally achieve more from their time.

Make better decisions. With current data made available to all your teams, decisions are based on facts rather than estimates or guesswork.

Share a single set of data. Having all relevant applications and users on a common platform makes sure there are no overlaps and duplicates that often don't match up.

Automate activity. By reducing time-consuming manual data entry, you not only save on labor costs you also have more accurate information.

Connect your stakeholders. With built-in workflows, consistent procedures and timely notifications, your entire process speeds up.

Quality and compliance
Of special importance in the food business is the quality of the goods you produce.
Without complete visibility, it becomes almost impossible to consistently comply with legislation, maintain safety and avoid product recalls that wreak havoc on your productivity and your brand.
Industry-specific food processing solutions should always include the following built-in functionality:


Traceability of all information on ingredients and finished goods, which allows you to isolate problems quickly and precisely.

Supply Chain Management lets you track real-time data on all aspects of suppliers and raw materials during production.

Food Safety Information keeps you up to date on issues like hazard analysis, and critical and control points so you can create a preventative model.

Inventory Optimization helps you track products and raw materials both upstream and downstream so you avoid spoilage as well as excess stock.

Compliance data should be stored in a central depository to help you meet regulations and enhance customer relationships through accurate labeling information.

As well as this specific functionality, any modern food processing solution should also offer an intuitive interface that appeals to a modern workforce, helps you attract the best talent and increase your productivity.
After all, only by improving your productivity can you grow your output - and your profits.
Read more
about achieving profitable growth through food-specific technology.
Let's Connect
Contact us and we'll have a Business Development Representative contact you within 24 business hours