Protecting Patron Privacy - New book authored by Infor V-smart Customer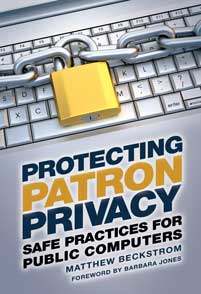 Long-time Infor customer Matt Beckstrom, systems manager of Lewis and Clark Library in Helena, Montana has recently authored a book titled "Protecting Patron Privacy".
Matt is a frequent presenter at conferences on library technology and privacy. Previously, he held several board positions for the Montana Library Association. He received his master's degree in information science from the University of North Texas. Matt is also a core presence at our annual North American V-User's Conferences and is the communications officer for the V-User's User Group.
About the book, from ABC-CLIO:
"In a world where almost anyone with computer savvy can hack, track, and record the online activities of others, your library can serve as a protected haven for your visitors who rely on the Internet to conduct research—if you take the necessary steps to safeguard their privacy. This book shows you how to protect patrons' privacy while using the technology that your library provides, including public computers, Internet access, wireless networks, and other devices."
The book is available on ABC-CLIO and Amazon.
We encourage you to take a look at this book and see how it can assist you in reviewing your privacy policies and implementing security procedures to protect your patrons.
Matt demonstrates the commitment and impact that Infor customers have on the library community.
Infor is pleased to have Matt and Lewis and Clark Library as a V-smart customer and we congratulate him on his recent book.

Dave Alexander
Manager - North American Sales and Operations
Product
Library and Information Systems
Region
Let's Connect
Contact us and we'll have a Business Development Representative contact you within 24 business hours