Ready, Set, Certify at Winter Showcase 2017
Diving into the Infor Certification Exam Program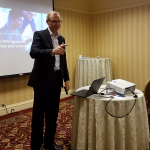 Infor's Tom Passe, Education Program Manager, presented a session at Winter Showcase 2017 in St. Paul, MN.


Tom provided an update on the Infor Certification Exam program and online Self-Directed Learning (SDL) courses. The session continued with a discussion of how to successfully pass Infor Certification exams, including how to make the best use of the new SDL self-paced training format in planning a certification path. Certification exams are role based and focus on the practical application of knowledge of Infor solutions required by specific roles. The session served as a great check-in of how this role-based approach for the new Lawson functional certification exams matches the real-world roles in the use of the Lawson solutions.


To learn more about the Infor Certification Exam program, please visit the Infor Certification page.


Filed Under
Education & Transformation Services
Let's Connect
Contact us and we'll have a Business Development Representative contact you within 24 business hours