Recognizing our Q1 most valuable players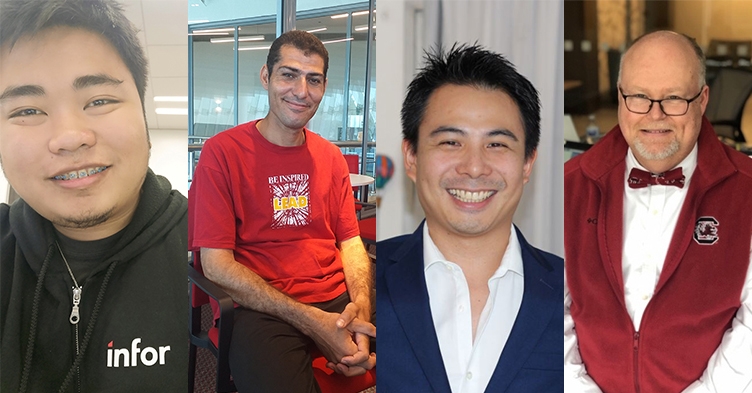 As we continue to bring our culture to life through initiatives like We are Infor, it's important to recognize those individuals who live the Infor values and go above and beyond. Every quarter, we acknowledge these high achievers who have received distinction from their peers and have helped make us a world-class organization with their hard work and dedication. Starting this fiscal year, our new MVP selection process is based on RAVEs, which our colleagues earn from each other for their hard work and alignment with our values. For Q1 of the 2020 fiscal year, we would like to congratulate our latest most valuable players:
APAC―Elieser Legaspi
Based in Manila, "Ellie" is a senior software engineer on the Infor CloudSuite™ Financials and Supply Management Analytics team, and he brings a sense of urgency and sense of community to all he does. In addition to his normal responsibilities, Ellie helps keep the team on track and on time, and also created a Birst automation tool that is assisting multiple developers and QA team members with project delivery.
Europe, Middle East, Africa (EMEA)―Alaa Hashish
Alaa is a human resources team member based in Giza, Egypt. He works with a sense of urgency and does his best to make the day-to-day work experience of his coworkers easier.
Latin America (LATAM)―Fernando Morishita
Fernando is a software engineer on the development team, based out of Sao Paolo. He is a team player, always available to help wherever needed, and seeks to deliver high-quality solutions that really attend to our customer's needs.
North America―Dwayne Brucke
Dwayne is a solution architect and part of the Infor Services team. Dwayne embodies the Infor culture: he has a positive attitude that affects those around him with a desire to not only get it done, but to get it done great.
Our MVPs come from all corners of the globe, and they each bring diverse backgrounds, experience, and interests. They're an important part of our global Infor community, and have each thanked coworkers, managers, and more for contributing to their success at work and MVP win.
Here is what they say about working at Infor:
"Acting like a consultant to employees in both their employment and personal life matters even if it's irrelevant to my role. Building strong relationships with employees to help with their goals and achievements and creating a healthy, likeable environment at Infor makes Infor a nicer place to work." – Alaa Hashish
"As an Inforian for several years, my motto as a solution architect has always been to make our customers successful and to make them happy. For me to do this, I have surrounded myself with others who exude positivity and always want to do the right thing. Because of this, I feel confident that, in any situation either professionally or personally, I will always live up to my motto. I am humbled by this award as I feel that I am only doing my job." – Dwayne Brucke
"As the saying goes, do what you love, and you will never have to work a day in your life. Coding is my passion and solving problems is what fuels my ambitions. At Infor, I have been given the opportunity to do both. It's not always a bed of roses, of course, but I learned that whenever a challenge arises, I am part of an entire team of very capable hands (and minds) with the same goal: overcome these challenges. I am not alone, and neither are you―coworker or customer. This makes us stronger, and it's why I value teamwork so much." – Fernando Morishita
Elieser Legaspi even described his experience working with his team here with a quote from author John Maxwell: "Everyone has the potential to become an encourager. You don't have to be a genius. You don't have to have it all together. All you have to do is care about people and initiate."
A great approach has led to great results for these Infor MVPs, and we're proud to work with all of them.
Region
Worldwide
EMEA
North America
APAC
LATAM
Let's Connect
Contact us and we'll have a Business Development Representative contact you within 24 business hours