Reflections on summiting the Himalayas' Stok Kangri
"It's not the mountains we conquer, but ourselves." This insight from renowned mountaineer Sir Edmund Hillary was a motivating force for Dan Alagarajah, senior network administrator, and Ramesh Perera, software engineer, in our Sri Lanka office as they set out to summit Stok Kangri, the highest mountain in the Stok Range of the Himalayas. Here's their inspiring story:
Stok Kangri stands at 6,153 meters (20,187 feet), the highest mountain in the Stok Range of the Himalayas in the Ladakh region of northwest India.
Stok Kangri had been on our to-do list since the beginning of this year, as we wanted to take our passion for mountaineering up a notch, but, at the same time, we knew that climbing a 6,000-meter peak would require tremendous physical fitness and preparation.
Our passion for mountaineering grew into obsession after our first high-altitude Himalayan trek in 2015 in Uttarakhand, a beautiful state in India where the Greater Himalayan range starts. It's not just the beauty of the snowcapped mountains that made us fall in love with the Himalayan ranges, but also the fact that you need to push your limits to catch a glimpse of the views that few people get to see.
Preparations for Stok Kangri started in January. We began a fitness routine (jogging, swimming, staircase climbing, uphill running), and read a lot of articles about ascents to mentally prepare ourselves. Every article reminded us how underprepared we were, and how much more effort we should put in. We also knew that it's the mountain that will decide whether you can summit it or not. A lot of things can go wrong, and a lot of things can change very fast in high-altitude mountaineering.
With all this in mind, we set off from Colombo, Sri Lanka, on Aug 27 and reached Leh, Ladakh, on the morning of Aug 28. Leh is 11,500 feet (3,500 meters) above sea level, and we wanted time for our bodies to acclimatize properly before starting our expedition.
We had three days to get used to the terrain, altitude, and temperature. Leh is a beautiful city with a lot of breath-taking views. It is known for monasteries and delicious Tibetan food. We visited almost all the nearby monasteries, and enjoyed riding scooters on the highway.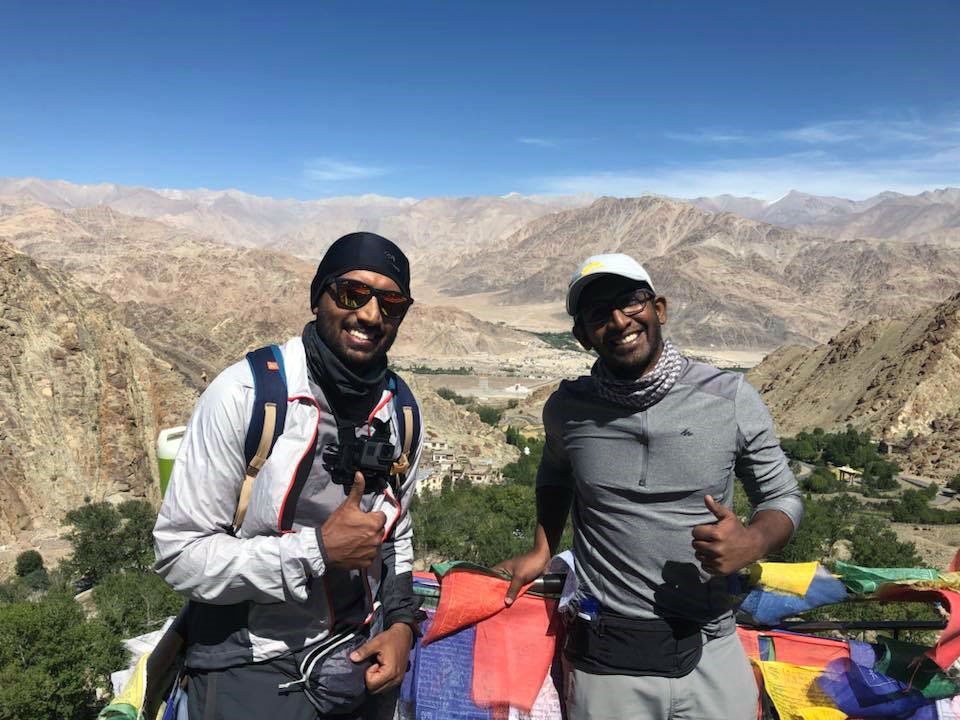 Our Stok Kangri expedition started Aug 30. We met our fellow trekkers and the guiding crew that evening. It's important that trekkers and crew establish a good relationship and build trust to make for an enjoyable and safe expedition. The guides were all experienced professionals. We were the 8th batch they guided in the last two months.

We had 16 trekkers, 5 guides, and 1 lead on our team. One more technical guide would join us on summit day from the base camp.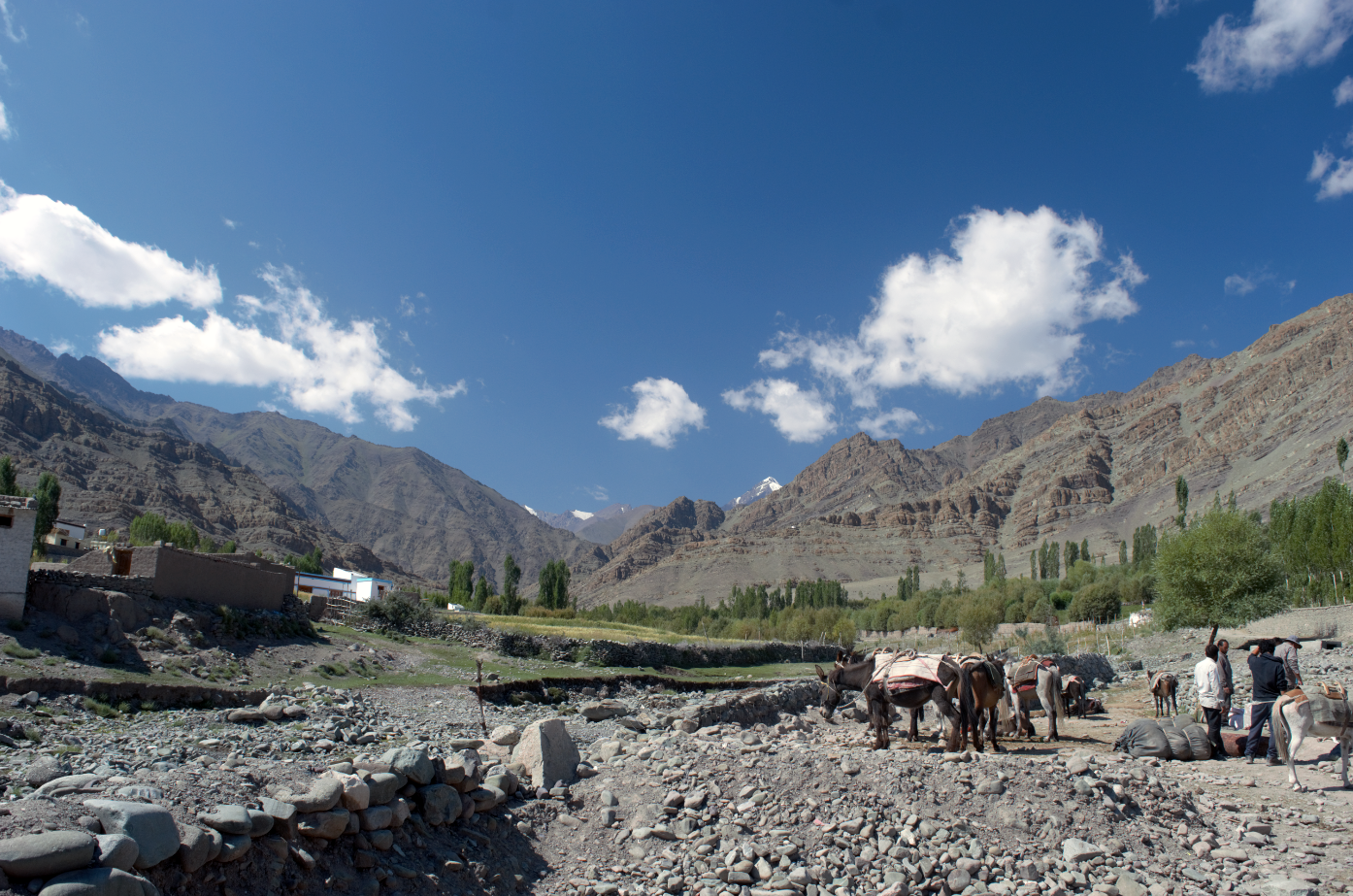 Day 1 on Aug 31, we left the hotel in Leh and headed to the Stok village, trailhead to the Stok Kangri. We started our expedition from the Stok village (11,800 feet) to the ChangMa village (13,087 feet), where we set up our first campsite. There were just a couple gradual ascents throughout the trail, and that was a good thing for us, as it helped us to acclimatize. Apart from mild headaches, we were doing good, so far. As we reached the campsite around 2 p.m., it was about 8 degrees Celsius, however it dropped to around 4 degrees during the night. We had a fairly good night's sleep.

Day 2 was similar to the first, just a few gradual ascents as we trekked for about 4.5 kilometers from ChangMa village (13,087 feet) to Manokarma (14,200 feet), where we set up our second campsite.
One of the golden rules in high-altitude mountaineering is "climb high, sleep low," which means to help your body better acclimatize to the atmospheric changes, it's important that you climb to a higher elevation and then descend back to a lower elevation to spend the night.

Upon reaching each campsite, it became routine for us to hike up an additional 300 to 500 feet and spend 30 to 40 minutes up there. This was usually the coolest part in our expedition, as we hiked without our heavy backpacks, and we knew we would be treated to delicious vegetable soup upon our return to camp.
Day 3 started with the journey from Manokarma (14,200 feet) to the base camp (16,300 feet), a gain of nearly 2,000 feet with a couple of steep ascents. It was our first experience reaching that altitude. We could feel the thin air, the lack of oxygen, and a drastic change in the temperature. As we reached base camp, we felt severe headaches, which took a while to settle down. The altitude made even the smallest tasks difficult.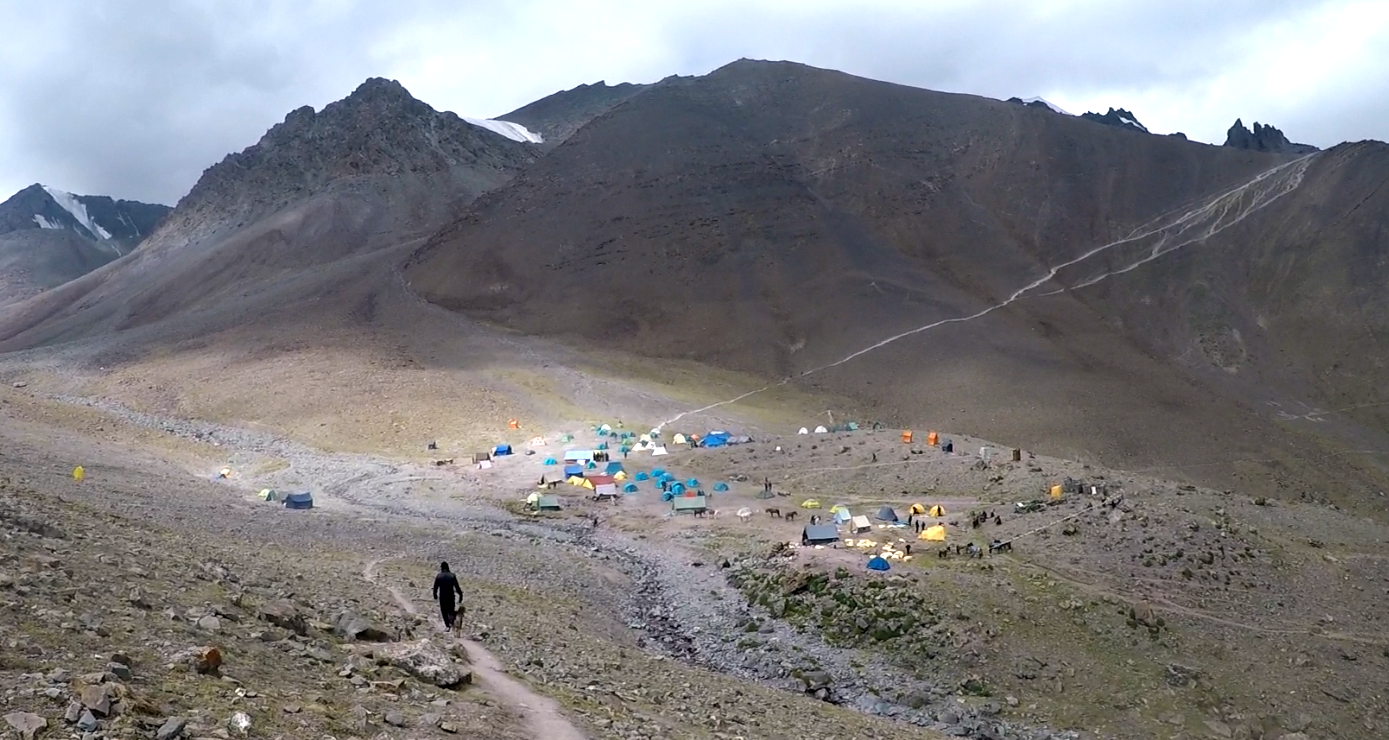 Temperatures dropped to sub-zero at base camp. We had to wear multiple layers, starting with inner thermals, base-layer fleece, top-layer fleece, and a down jacket.

Sleeping wasn't easy at base camp, which is common. However, it was important we get enough rest, as the summit push was scheduled for the following night.
Day 4, the second day in base camp, was a training day for the summit climb that night. We were provided with all the technical gear—crampons, harnesses, carabiners, helmets, ropes—and trained to use them. The guides also trained us how to react during a fall, and how to do a self-arrest, which reminded us how deadly the climb could be, and how focused every one of us must be, since each of our lives depends on the whole team that is roped together.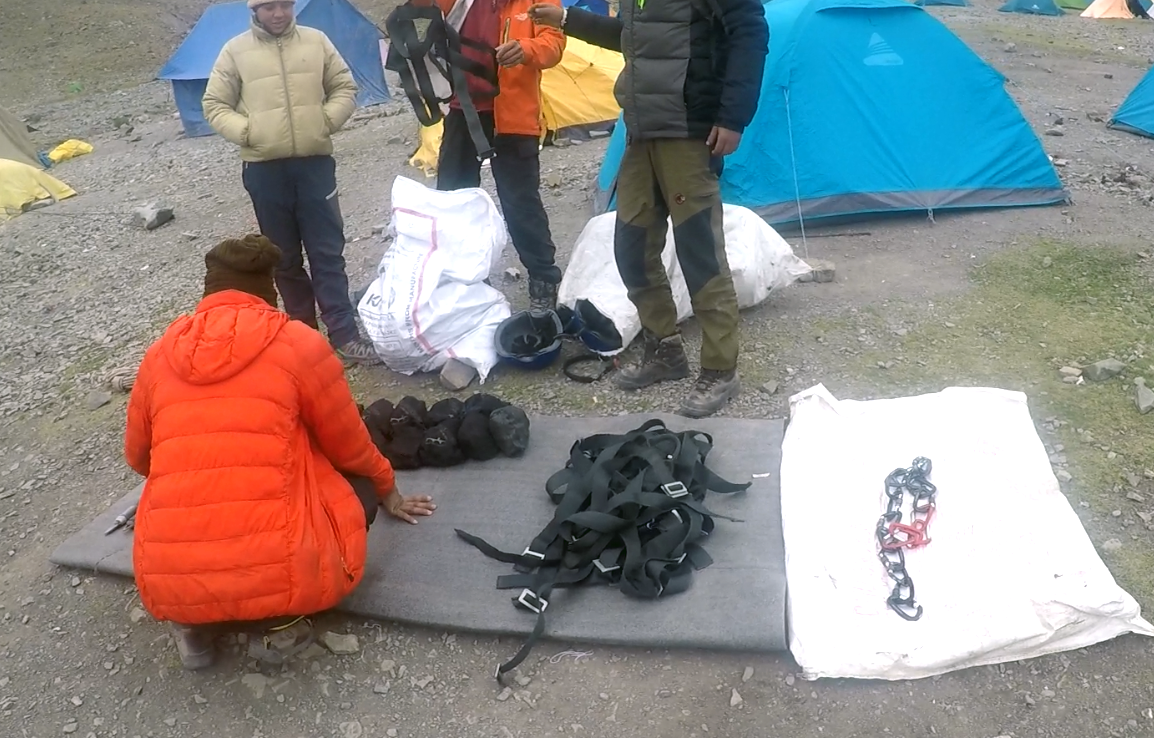 After the training session, we ate a heavy lunch, as we wouldn't be able to eat much during the night summit climb. We would leave at 9:30 p.m. with a turnaround time of 8 a.m. If we didn't summit by 8 a.m., we would have to turn back to base camp then anyway, no matter how close we were.
With the chilling thoughts of climbing the whole night ahead of us in freezing temperatures, we snugged into our sleeping bags and slept until 7:30 p.m.
The long anticipated summit night finally arrived. Everyone was nervous. Months of preparation boiled down to this single night.
We all knew it was a game between our fitness and mind. We were told there would be so many places along the climb where we would want to give up. But you have to motivate yourself and push forward. You are more vulnerable when you are physically exhausted; that's when your mind plays games. We were all ready to put our minds and strength to the test.
At 9:30 p.m., with a small prayer and a cheer, our team started the climb.
Around 1:30 a.m., we reached the glacier crossing point. We had to keep each other motivated. The trick is not to pay attention to the pain and exhaustion; instead, look around you and cheer up your climbing partners.
At 4:30 a.m., we reached the shoulder ridge. As per the statistics, 90% of climbers who reach this point will make it to the summit. Reaching the shoulder point was a huge encouragement for us as we knew we were almost there, with just another 1 to 2 hours of climbing.
The weather wasn't great, cloudy and foggy. We roped up to each other from the shoulder point as that was the most dangerous part, where a lot of major accidents occur. There were seven climbers in our group, accompanied by a technical guide and a junior guide.
The final push from the shoulder to the summit was the toughest. We were already above 19,000 feet, and we had been climbing for 6 to 7 hours. The thin air made us gasp for more oxygen. Every two steps you take, you want to stop and breath for 2 minutes before you start to take the next two steps.
But, we had only one goal in mind, to make it to the top!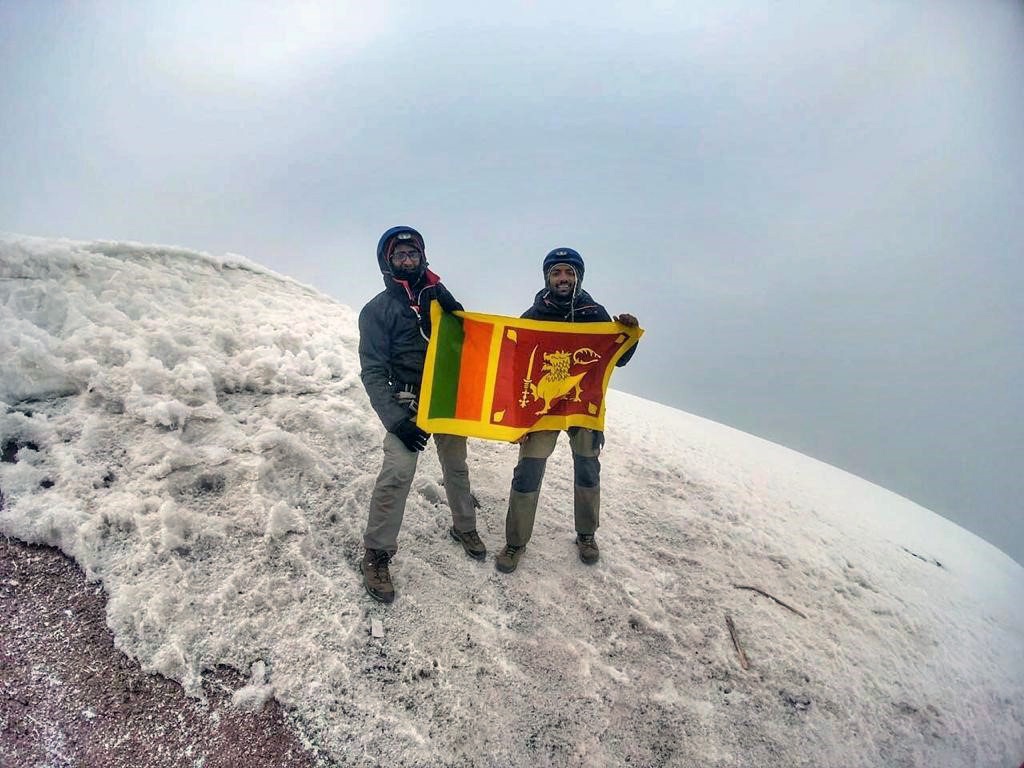 At 6:05 a.m., Stok Kangri was kind enough to let us summit her. We stood at the staggering altitude of 20,187 feet. So many emotions at once. We hugged each other with tears of joy. We couldn't see the never-ending mountain ranges around us as the mountain was covered with fog. We got to spend a whole 25 minutes celebrating at the summit and taking photographs.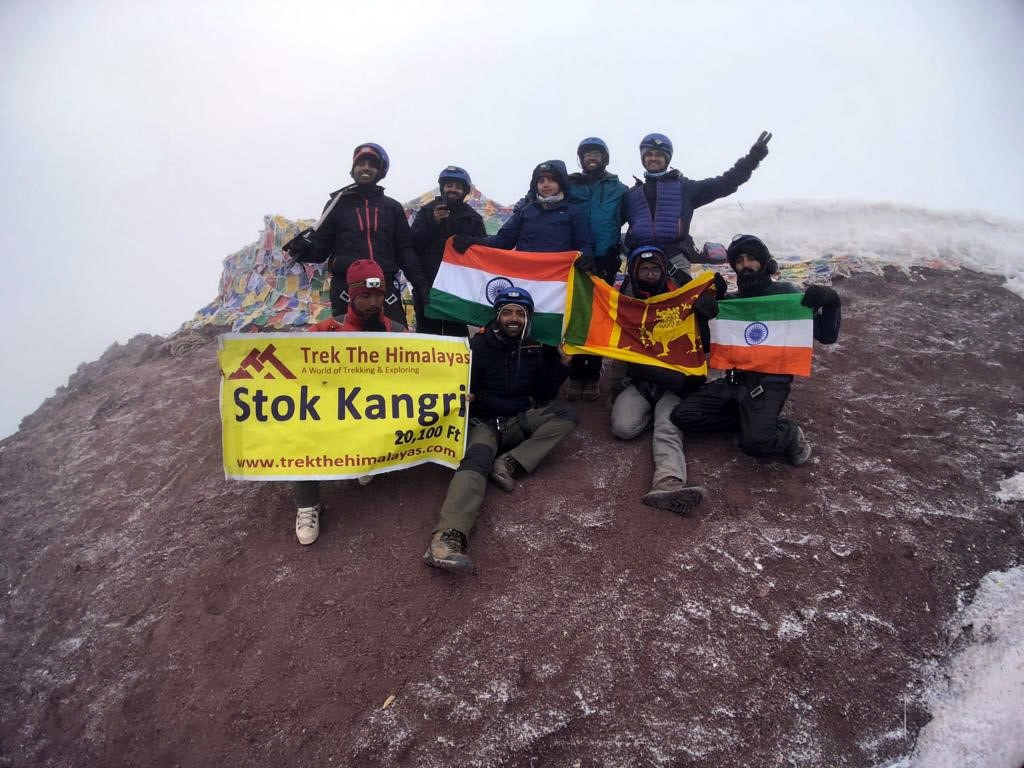 At 6:30 a.m., our guide reminded us it was time to start our descent. We needed to be even more focused, as we were already exhausted and our bodies weak. Small mistakes could cost lives. Most of the deaths on mountains occur during the descent, when climbers are most vulnerable. We took it calm and steady. We had the luxury of taking longer breaks, as we did not have to worry anymore about turnaround time.
By 11 a.m., we were back at based camp, after an almost 14-hour roundtrip. We headed straight to our tents and crashed in our sleeping bags. We deserved it!
While lying in our bags, we recalled every hardship we went through during the climb and remembered a famous saying by Sir Edmund Hillary: "It's not the mountains we conquer, but ourselves."
No matter how fit you are, and no matter how much you prepare to face the mountain, if you do not have the will power to conquer your own mind, you will not be able to summit. Same applies to life. There will be so many mountains in our lives in so many different shapes. If we want to conquer them, we need to conquer ourselves first.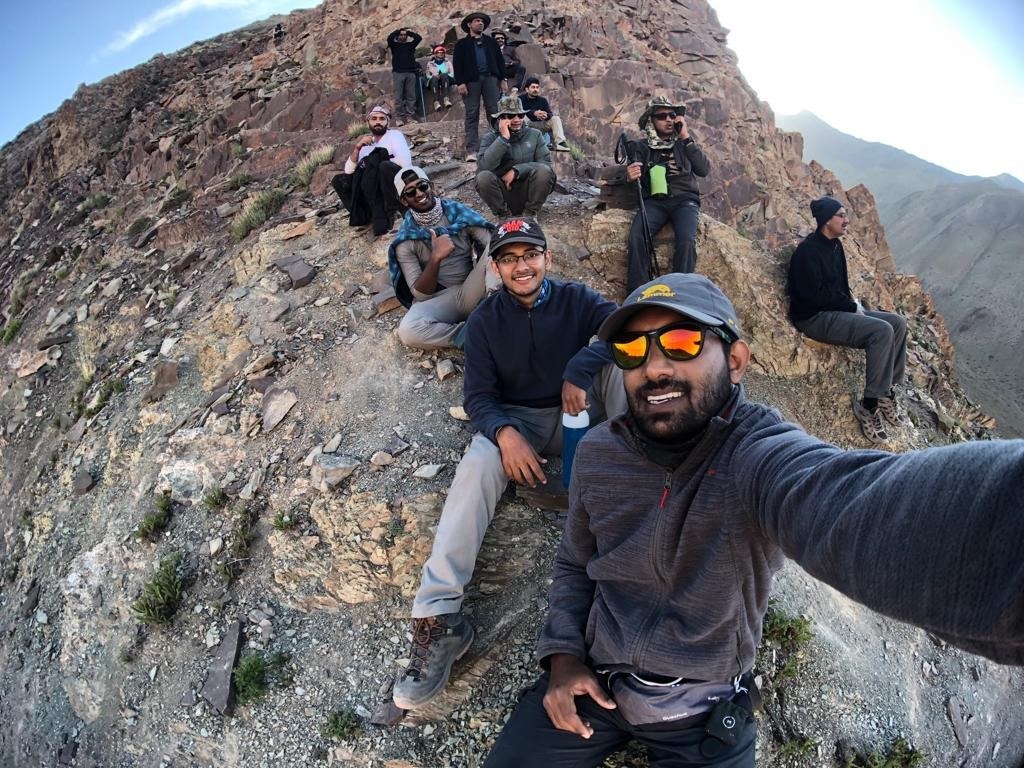 Region
Worldwide
North America
APAC
Let's Connect
Contact us and we'll have a Business Development Representative contact you within 24 business hours