Register now for Infor TechEd for Infor CloudSuite Industrial and Distribution SX.e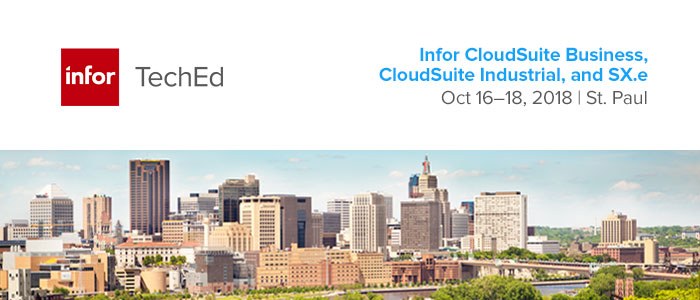 Learn best practices from the best of the best
Infor Education is holding a unique technical training event called TechEd. If you haven´t had the opportunity to be part of one of these, now is your chance! Register today >
What is TechEd?
Infor TechEd is a 2.5-day education conference that provides advanced technical training on CloudSuite Industrial, much of which you can't find anywhere else. It also provides huge access to many of our top product experts, including scheduled one-on-one chats. At the conference, you learn best practices that allow you to:



Simplify your work

Avoid wasted effort

Provide great solutions to your users

Become an indispensable resource at your site

Topics for 2018
You get a choice of deep-dive and hands-on sessions. This year's topics include:



Automating work with the application event system

Saving time creating reports

Adding extensions for your specific business needs

Increasing system performance

Mastering APS

And much more


See all training available

Register by Aug 10 to take advantage of the Early Bird rate.


We hope to see you at Infor TechEd for Infor CloudSuite Industrial 2018.

Event details:
Dates: October 16-18, 2018
Location: Saint Paul Hotel, St. Paul, MN
Early-bird rate, register by Aug 10: $1,649
Regular rate: $1,849
Let's Connect
Contact us and we'll have a Business Development Representative contact you within 24 business hours