Renewable energy companies: Why decreasing unscheduled maintenance is paramount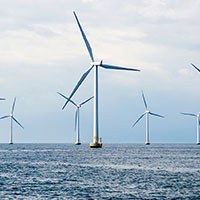 Debbe Gordon, Infor EAM
Renewable energy companies—wind, solar, biomass, and others—have seen a steady increase in their production and in some cases funding. While this translates into more revenue and customers, it also represents an increase in future costs associated with warranty expiration and more unscheduled maintenance.
Sandia National Laboratories reports that 40% of all wind farms are at the end of their OEM warranties. This means operations will now absorb the cost for new parts including shipping and inventory carrying costs. Add in the fact that 75% of repairs are unscheduled, and the operations team is looking at accelerated overtime costs and downtime.
The solar industry is not without challenges as well. According to the National Wind Coordinating Committee, solar companies and energy storage companies lose hundreds of thousands of dollars from unclaimed warranties, with unscheduled repairs escalating close to 50%.
Without the ability to capture, track and analyze historical and current data on energy to determine the optimal time of replacement, companies will continue to see their costs chip away at profits and customer satisfaction. Additionally, the inability to review history at the site of repair, check warranties, and access repair illustrations and safety procedures will only prolong the length of downtime and overtime on each repair. Proactively scheduling inspections based on asset-specific data results in a 40-50% reduction in cost and a significant increase in uptime. Equipping field technicians with mobile technology while at the site of repair also amps up the ROA.
Technology to control the risks
Infor's Enterprise Asset Management (EAM) solution can help mitigate these additional costs. Warranty tracking alerts technicians if a part is under warranty. Procurement sourcing and inventory management capabilities allow staff to view suppliers, pricing, and inventory on hand. Preventive maintenance can be scheduled whether it is based on manufacturer's recommendation or historical analysis of failures for the actual turbine or solar grid itself (predictive maintenance).
Mobile functionality plays a key part in driving efficiency, accuracy, and cost containment. Technicians equipped with tablets can view historical data such as parts repaired/replaced, failure codes, frequency, safety reports, check lists and illustrations/documentation. At the site, technicians can enter notes, complete the checklist, and send an automatic alert that the turbine or solar grid is now optimally functioning.
Back at the office, operations management can view high-level or detailed data including historical trends and costs. This data enables management to formulate future decisions that minimize operational costs and optimize service levels for their customers.
To gain additional insight into Infor EAM's capabilities that can positively impact your operations,
read the brochure
.
Product
CloudSuite Distribution Enterprise
CloudSuite Facilities Management
Infor EAM
Region
Let's Connect
Contact us and we'll have a Business Development Representative contact you within 24 business hours