Report: Constellation Research - 9 starting points for your digital transformation
Get guidance to help you on your digital transformation journey
The rise of automation and use of sensor data in manufacturing technologies means increased pressure to undergo a digital transformation. To remain relevant and take advantage of new opportunities, you must modernize, from the shop floor to the supply chain network.
Read "9 Starting Points for Digital Transformation in Manufacturing" from Constellation Research for actionable next steps you can take on your digital transformation journey, including:


9 entry points for digital transformation in manufacturing

6 features of organizations that succeed in digital transformation

5 recommendations to ensure digital transformation success

Download the report
to learn more.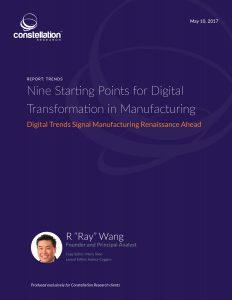 Let's Connect
Contact us and we'll have a Business Development Representative contact you within 24 business hours