Rewiring the global supply chain to avoid risk
The bankruptcy of Hanjin Shipping Co., one of the world's largest ocean container carriers, has had far- reaching impact on global trade. Overnight, 150,000 20-foot-equivalent unit containers (TEU) were removed from trade between Asia and the Mediterranean. Between Asia and North America, 240,000 TEUs were lost. In the week that followed, 90 vessels were seized or stranded.
Goods and inventory were stuck on the water. The possibility that creditors might arrest ships directly impacted inventory. Instant tightening of capacity forced shippers to scramble for alternatives, and shipping price increases were widespread. The Wall Street Journal reported that as
Hanjin's financial issues
became public, other ocean carriers announced rate surcharges. Almost overnight, retailers and manufacturers faced significant shifts in pricing and capacity availability. Customer orders and profitability were threatened.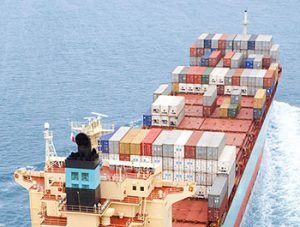 It's little wonder that the effect was so wide-reaching. Hanjin is estimated to carry 3.1% of global container capacity, with 25,000 containers crossing the Pacific daily on its ships. This man-made disaster is not unique. In many ways, it's just another run-of-the-mill supply chain catastrophe.
Swap out Hanjin and replace it with any natural disaster, such as a hurricane or tsunami, or man-made disruption, such as a credit crisis or war outbreak, and the results are similar. Commerce comes to a halt because a single link in the supply chain is broken, or a series of crippled links brings down the entire network. The very nature of global supply chains, which reach deep into emerging regions and extend across continents, exposes them to a high degree of risk and volatility.
Given this uncertainty, why would any company tie itself so closely to any single trading partner? Why expose your business to the risks associated with a particular carrier or factory? In today's hyper-connected world, traditional ways of viewing transportation and supply chain strategy have become outdated.
The solution has to be a new way of thinking—a transformation.
Redefining commerce: The value network
The first step in this transformation is to connect and harness a value network that allows leaders and innovators to handle volatility and risk—whether it be on the front end with customers or on the back end dealing with shipping capacity, supply chain costs, and inventory. Technology exists today that can unite massive networks of trading partners, including factories, carriers, and financial institutions. The result is a network model that eliminates bottlenecks, prevents excessive exposure to risk relating to any single entity in the ecosystem, and allows agile movements to avoid delays or disruption. With this technology and connectivity comes freedom—freedom to make smarter decisions and transact with the right partners for specific portions of business.
Picture a business network with 25,000 companies across the globe offering various services for global trade and supply chain. The network is connected—like LinkedIn, for example—and everyone can make updates, but a single instance of data resides in the middle. This gives manufacturers and retailers the ability to see across the network and make changes as conditions shift. A supplier lacks capacity to fill orders next week? Shift materials to another factory. A natural disaster shuts off production in Singapore for multiple days? Identify priority customer orders at risk and expedite goods from another region in the network. Your ocean carrier files for bankruptcy? Identify all goods at risk on the water, determine the priority orders to address, and book the necessary carrier capacity with other providers in the network.
One lesson the Hanjin crisis has taught us: The stakes are extremely high in a global supply chain, and risk is widespread: $14 billion in stranded cargo, 50% spike in trans-Pacific shipping rates, 82 ships stranded on the water, 8 ships seized by creditors. Only by taking a network view of global business and inventory can the vision of keeping risk in check, while delivering the goods and services customers expect today, become a reality.
Let's Connect
Contact us and we'll have a Business Development Representative contact you within 24 business hours