Rising star Lori Brown at Infor TechEd: Chasing the bigger picture
During Infor TechEd for OS two weeks ago in Las Vegas, we spoke with one of the presenters, Lori Brown, an Infor expert on key features in Coleman: Chat, self-service skill building, integrating with Alexa, and vision enterprise skills.
Tell us a little bit about yourself.
I'm 23 years old, based in and originally from Atlanta, GA. This is my second year here at Infor and my first Infor TechEd. I've always thought of myself as a pretty extroverted person until I started attending events such as this one. It really challenges the limits of my personality and pushes me to wrap my mind around TOTALLY different scenarios than what I'd normally encounter even in my day-to-day role.

What three words would you use to describe your role?
Continuous controlled chaos (in a good way).

What does a typical day look like for you, and can tell us anything exciting about what you are working on?
A typical day starts with my scrum activities and checking and responding to emails. Then, meetings and correspondence with our other Infor product teams to encourage adoption, answer questions, and level set and establish timelines for ongoing projects. I fill the rest of my time with customer engagements, other meetings, and checking in on my products.
Exciting things I'm working on: Working with Amazon on a marketing and roll-out campaign for our new integration with Alexa for Business.
Same thing for Infor Chat: I'm working on social media strategies, customer announcements, and webinars to announce the end of limited availability and start of general availability of Chat so that our customers can start using its full functionality.
What were you doing prior to joining Infor?
Attending Georgia State University and waiting tables.
What made you decide to join Infor?
When I graduated from college, I wanted to work in software but I was REALLY adamant about avoiding a stationary role or stagnant job title – and I wanted a job sprinkled heavily with customer engagement. I've always enjoyed engaging with customers, even when I was waitressing.
What do you see as the biggest challenges facing your team?
The biggest challenges to my team are evangelism and adoption. Infor OS innovates at such a rapid pace that we often have to work twice as hard to keep everyone in the loop: enabling support so they can better serve our customers, updating services on what is available so training is current, and notifying sales and partners with everything we're pumping out month-to-month, or even with release of new products in Infor OS.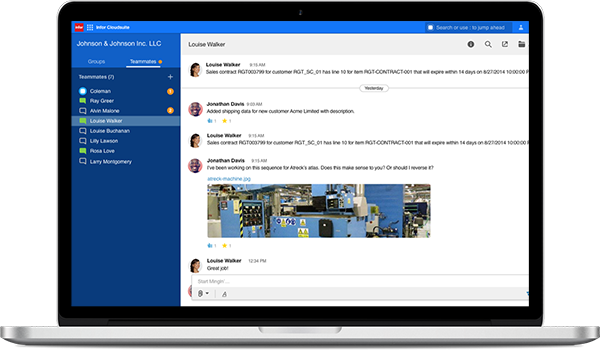 What excites you most about your job?
Learning the bigger picture. For instance, here at TechEd I was able to attend my colleagues' sessions, talk with customers, and demo different portions of Infor OS. Understanding and innovating with Amazon helps me to understand the bigger industry picture of what the world needs from its technology. And that's solutions with a low barrier to use, reasonably integrated, and fulfill existing needs with a pathway to new functionality. I find providing a service that suits someone's needs and fulfills a void they previously had is, at its core, a very meaningful line of work.
Where do you see yourself in the next 5 years?
I really enjoy my job and hope to continue in product management. The sense of ownership I have over these products is really exhilarating. I relish teaching and learning, so any role in which I can continue to learn and share what I've learned, I think I'll be fulfilled. I have a strong desire to live abroad, and in the past 5 years I've really enjoyed engaging in a personal ministry that I'd like to dive into full time within the next 2 years. However, I do want to stay in software as it's an amazing way to learn new things.
Join us for the next Infor TechEd, where you can meet Infor experts like Lori Brown!
Filed Under
Education & Transformation Services
Events
Product
Coleman Artificial Intelligence
Infor OS
Region
Let's Connect
Contact us and we'll have a Business Development Representative contact you within 24 business hours