Runway to closet: Infor/FIT Fashion Design ICONS Award Part 2
By Marta Cleaveland, Infor Blog editor

Kathleen Frey and Sonne Bajwa love fashion. But they love the business of fashion even more.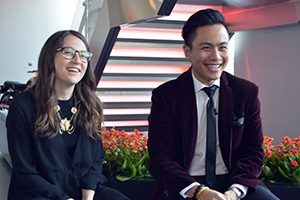 The two students at the Fashion Institute of Technology (FIT) in New York teamed up and have just won the Infor/FIT Fashion Design ICONS Award for their business/marketing plan.

"Both of us like to talk," Frey explained. "Everything leading up to the presentation was stressful, but presenting our ideas to the judges—(fashion industry and design leaders Marigay McKee and Temple St. Clair; Macy's VP Durand Guion; and Erick Rowe, Infor VP of Retail and Fashion)—was the fun part."

"Sometimes, it can be tiring constantly believing that you have what it takes in an industry as competitive as fashion," Bajwa said. "It's incredibly gratifying to receive recognition through the Infor/FIT award for all the hard work we've put in. It's even more amazing to be part of a project that showcases the talent of both the design students and business students of FIT."

It's all about design + business

​Infor has teamed up again this year with FIT to create the ultimate design contest exploring the real-world collaboration between fashion designers and business teams. FIT fashion design students submitted their red-carpet-ready creations to the panel of fashion industry expert judges. They selected Brandon Johnson as the fashion design winner. His design is being fabricated by couturier Paula Varsalona and will be worn by Olivia Perez, founder and editor-in-chief of lifestyle blog Friend of a Friend, on the red carpet at the Harper's BAZAAR ICONS event during New York Fashion Week in September. Next, FIT business students worked in teams of two and submitted business/marketing plans to take Johnson's winning look to market. After an afternoon of presentations, the judges chose Bajwa and Frey—team RC.e, "Red Carpet everyday"—as the winners.

Runway to closet

Last year, the contest focused on "concept to runway." This year, an additional focus was added on "runway to closet." The marketing contestants' objective: Market the dress by up-and-coming FIT designer Brandon Johnson to 50 Macy's stores and online with a goal of selling 1,000 units in three months.

When Team RC.e first saw the design of the garment they would be marketing, "we immediately thought: red carpet, glitz, glam. A real head turner," Bajwa said. "But the most saleable aspect is the versatility of the outfit. I, personally, enjoy buying clothes that can be worn in multiple ways rather than just worn once. Brandon's design can be worn as one complete extravagant look or worn as separates to create different looks. I was inspired by the bridge between glamour and utility he is trying to build."

"There are so many glamorous, high-fashion dresses out there," Frey added, "but what differentiates Brandon's design is that in one instance it can be an intricate, beautiful dress, and in the next, it can be worn as a turtle-neck with your favorite pair of boyfriend jeans."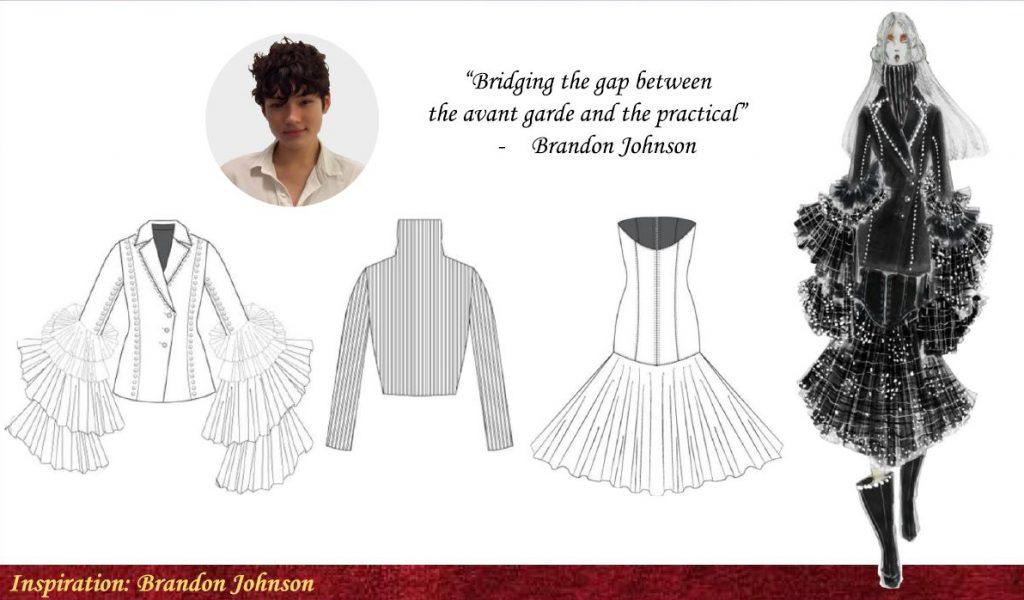 The plan: technology, social media, and influencers

"We crafted a marketing plan with a firm foundation in Brandon's versatile design aesthetic, capitalizing on Olivia Perez's influence and her followers, and using Macy's strategy as a compass to keep everything in line," Bajwa explained. "The overarching theme is to make the product engaging, be it through a seamless purchasing experience, in-store features, or even through store associates."

"We did a lot of research on the psychographics of millennials and what they value in retailers. We found was that, while they are more price sensitive than brand loyal, above all else they value engagement," Frey said. "With that in mind, we wanted to take Macy's omni-channel approach one step further."

Technology gets into the act

"Technology is an integral part of our business plan because we are hoping to engage with our consumers across all platforms: the website, the app, Instagram shopping," Frey said.

"We focused on effectively incorporating technology to maximize the sphere of influence of our promotions and our customers' experience," Bajwa said. "For instance, based on our research and knowledge on millennials, we knew that we had to establish a strong mobile presence."

And then there's the retail analytics piece, with solutions such as the Infor CX Suite. "It is crucial to do research and analyze data before executing strategies," Bajwa said. "Practicing due diligence and responding to market needs rather than just pushing out unsupported ideas is the most efficient way to maximize our resources."

"Technology allows us to study our consumers and understand them a little bit more," Frey said. "For example, we can track how many times someone views an item before buying it, perhaps prompting reconsideration of the price point."

Leading up to Fashion Week

A whole lot of effort by a whole lot of people has already gone into this Infor/FIT Fashion Design ICONS journey to Fashion Week in September. And there's much more to come. The student award winners are invited to attend the glamourous ICONS red carpet event Sept. 8, hosted by Harper's BAZAAR—the event that kicks off New York Fashion Week.

"Fashion Week is one of the most exciting times in New York City, especially as a student at FIT," Frey said. "I have no idea how many endless hours Sonne and I spent on this project, but it was all worth it in the end. That's what Fashion Week is like."

"It's a time to notice how many people other than the actual designer have to come together to make a collection happen," Bajwa agreed. "Nearly every facet of the fashion industry comes together for an amazing spectacle. It's a great reminder of the immense creativity and hard work that goes into making our industry so fabulous and aspirational."

Bajwa and Frey in the future

Frey, who hails from New York's Hudson River Valley and is minoring in ethics and sustainability along with her international trade and marketing major, said, "I hope to pursue a career that will contribute to a shift in the fashion industry toward more ethical sourcing methods while simultaneously empowering women all over the globe."

After he graduates, Bajwa—who is originally from Singapore and is majoring in international trade and marketing and is minoring in economics, Asian studies and English—would like to start out in business development, marketing, or strategy with a creative company. Such experience, he says, would help him reach his dream job: "I would love to lead a global fashion brand or creative company to create the most unique, fun, and innovative products or experiences in the world. I hope to leave a legacy of innovation and fun that can inspire others to chase their dreams, too."

About the author: Marta Cleaveland is editor of The Infor Blog, and a writer with the Infor Corporate Communications Team. She has been a reporter and editor at daily newspapers in Minnesota, Idaho, and South Carolina. She has also worked in the tooling & machining industry, state government, public relations, and environmental nonprofits.
Let's Connect
Contact us and we'll have a Business Development Representative contact you within 24 business hours