Selling software with an engineer's problem-solving heart
By Marta Cleaveland, Infor Blog editor

Each quarter — on Get to Know Your Customers Day — we showcase outstanding members of our Sales Team and how they develop meaningful relationships with customers. This quarter, meet Laura Schaulat, senior principal consultant of Infor Value Engineering in Singapore.

From chemical engineering to Infor Value Engineering, Laura Schaulat trusts numbers and proof points.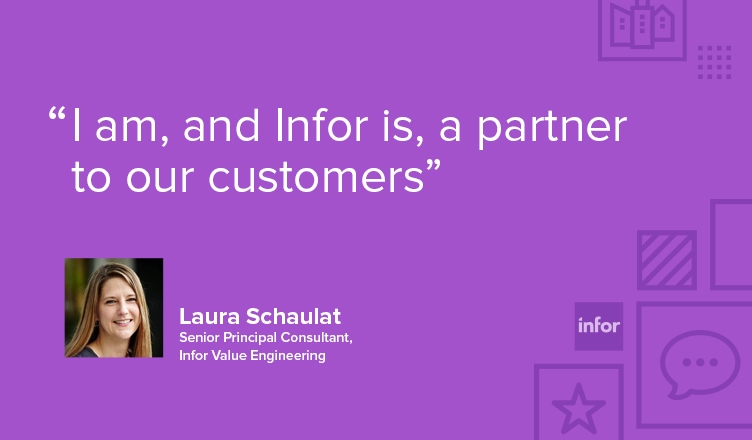 She started her career as a chemical engineer in Texas. Somewhere after earning her MBA in London, she pivoted to sales, and now she helps Asian companies understand the transformative power of Infor technology.

Her engineer's problem solving heart was drawn to Infor Value Engineering's analytical, best ROI approach to selling software solutions and enabling digital transformation. This individualized service helps customers analyze objectives, identify pain points, quantify value opportunities, and select the best software to realize the most business value. Then Infor Services helps put the plan into action and ensure progress on defined objectives.

Schaulat's part in the sales cycle starts early. It's her job to thoroughly understand the company, its needs, direction, and goals, and then use this information to work as a partner with the customer to ensure the technology not only will assist now and but will support the company's strategy as it evolves.

Her first step: research.

"My starting point is researching publicly available information. This sets a foundation, and gives me an idea of what types of questions to ask once we meet face-to-face."

She uses this information to understand the business, including strategy, customers, products, geography, and position in the market. Understanding how fast a company is maturing, and the rate of technology adoption also assists Schaulat in ensuring she can make the first conversation meaningful.

"From there, I spend time with senior management and key business process owners discussing the markets they compete in, and their unique value proposition to their customers. Together, we triangulate their business needs, market dynamics, and Infor capabilities to ensure they achieve exceptional value from technology investments."

When Schaulat discusses her approach to getting to know customers and building meaningful relationships, there's one word she stresses: partnership.

"I am, and Infor is, a partner to our customers. Enterprise technology lives with and drives a company for years. Customers are interested in a partnership because they appreciate working together to enable digital transformation and achieve the highest possible value from their technology solutions."

Throughout the sales process and even long after the deal is done, Schaulat ensures her lines of communications are open. She checks in with customers to see if they have questions, or if there's anything she can do to help.

"I still keep in contact with leaders involved in one of my first deals at Infor. That was three years ago. It's been incredible to see the company's growth, and to be there to support them with new Infor solutions as they have evolved."

Working in Singapore, Schaulat's customers are primarily maturing companies in Asian markets, with unique opportunities and challenges.

"The conversation about technology is harder here than in developed countries like Australia and the United States. While there are some incredibly attractive market conditions, companies are lacking in technology adoption."

As a woman in technology, Schaulat appreciates the culture of many Asian countries that brings women forward as leaders.

"Women run households, and often businesses here. In some Asian countries, female leaders are much more readily available than in other parts of the world."

When asked for her advice, not only in building great partnerships with customers but generally for those in tech, she keeps it simple: be bold.

"Listen and don't be afraid to be confident in your expertise. Learn, grow, and bring your knowledge bear."

Meet other Infor sales stars in our quarterly Get to Know Your Customers Day series.


About the author: Marta Cleaveland is editor of The Infor Blog, and a writer with the Infor Corporate Communications Team. She has been a reporter and editor at daily newspapers in Minnesota, Idaho, and South Carolina. She has also worked in the tooling & machining industry, state government, public relations, and environmental nonprofits.
Filed Under
Education & Transformation Services
Infor culture
Region
Worldwide
North America
APAC
Let's Connect
Contact us and we'll have a Business Development Representative contact you within 24 business hours