Send your EAM system into the sky
I recently attended
TechNet Asia-Pacific 2016
in Honolulu, Hawaii. If you were to attend just one event during the year focusing on defense issues, this was the event.
Now in its 31
st
year, the event featured an impressive agenda and speakers, and drew a sizable audience, making it the largest event in the Pacific Rim focused on defense issues.
Connecting with such an impressive audience provided an opportunity to make rich insights. One of the most significant issues across government is maintaining large assets and infrastructure. I was struck by a panel of US military communications officers stationed in the Asia-Pacific region who told the defense technology industry what they most need to accomplish the mission. The list included capabilities ranging from next-generation authentication tools to airborne command and control network modeling. Brig. Gen. Brian Cavanaugh, USMC, deputy commander, US Marine Forces, Pacific emphasized that the US military must maintain an emphasis on distributed operations that rely heavily on technological capabilities offered through cyberspace to achieve mission success. Mission success in both areas could be supported with
Infor Drone Enterprise Asset Management Solution (DEAMS)
.
Government is leading the way with drone technology for smart cities, national defense, security, and surveillance. Maritime and aerospace organizations are adopting drones, as well, for fleet and infrastructure inspections. We have seen repeatedly that once drone technology gets to the end user, they think of ways to use it that were not considered by drone developers. Our DEAMS offering is one such example, where we combined the flexible utility of drones with a robust enterprise asset management application. This moves the use and operations of drones in so many directions that it is impossible to anticipate this force multiplier effect. So just hang on.
Joe Arthur, Strategy and Innovation Executive, Infor Public Sector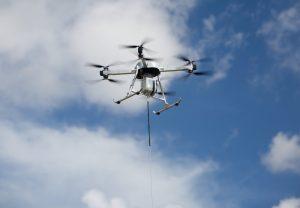 Industry
Federal Government
State and Local Government
Let's Connect
Contact us and we'll have a Business Development Representative contact you within 24 business hours