Shrink manufacturing skills gap with strong educational community relationships
Today's guest blog post is from Christine Scullion, director of human resource policy at the National Association of Manufacturers (NAM). Scullion oversees the NAM's human resources policy work and has expertise on issues including health care, immigration, workforce and education, and the U.S. federal rulemaking process.
The U.S. manufacturing sector has shown steady growth in recent years. According to a 2014
study by Accenture and the Manufacturing Institute
, more than 50% of companies reported plans to increase U.S.-based production by more than 5% in the next five years. In that same survey, nearly a quarter of respondents noted they expect to grow U.S.-based manufacturing roles by more than 10% in the following five years.
As U.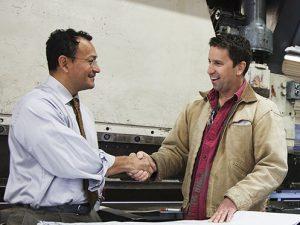 S. manufacturing continues to grow, employers face increasing challenges finding high-quality talent to fill open positions. According to
Deloitte and the Manufacturing Institute
, nearly 3.5 million manufacturing jobs will need to be filled over the next decade. However, current projections forecast nearly 2 million of those jobs will remain unfilled because of economic expansion and a significant number of expected retirements. 70% of manufacturers cite a shortage of IT skills.
These shortages have considerable business implications. Increased production costs and revenue losses resulting from U.S. manufacturing skills shortages cost manufacturers up to 11% of earnings annually.
Work-based learning and apprenticeships are a key component to thoughtfully addressing these concerns. While the U.S. Department of Labor manages registered apprenticeships, companies often set up their own unregistered apprenticeships to meet their individual needs.
The most important element to a successful apprenticeship is a structured learning pathway that creates valuable learning on the job, in the classroom, or online.
Whether your apprenticeship is registered or unregistered, manufacturers may set up the training in-house or partner with training centers, technical schools, or community colleges. The goal is to provide workers with advanced skillsets to meet your specific needs.
Manufacturers are inventorying existing programs and initiatives within their businesses and communities. As a part of this process, they are evaluating relationships to determine strengths and weaknesses in the talent pipeline. They are also reviewing the available skill-building opportunities and training resources available to deliver skilled workers.
An improved linkage between employers and educational institutions is key to developing more relevant education and training programs. The learning continuum must include input from the business community to help develop strategies, programs, and curriculum that address skill and labor shortages, and to help prepare students for careers in advanced manufacturing, such as that developed by the NAM's Workforce Task Force in 2014 that
outlines how to build talent in your community
.
Let's Connect
Contact us and we'll have a Business Development Representative contact you within 24 business hours