Simple re-targeting - does it really work?
I'll kick things off with a few scenarios that I think most people can relate to. It illustrates how using simple re-targeting in your campaigns can actually hurt instead of help. Here's an example that will put this into perspective. Last weekend my aunt Sofia called me and asked me for some help, she was looking to buy a new laundry hamper but she had a few questions. After a little time on the phone with her and some intimate information sharing with Google, and a few other sites, I was able to answer all her questions and she settled on a model she liked. I was also able to convince her to stay away from the "some assembly required" model she was considering and saved myself a trip to her house at the same time. Of course my aunt is a little old fashioned so she drove down to the store and picked one up in person, not believing in on-line shopping.
Early in the week my daughter came to me telling me that her computer headset was failing and that she was only able to hear out of one ear most of the time. She had had this headset for a while so I figured it was about time to replace it anyway. I asked her if it had worked out for her and she said that yes, she was happy with it. So I went back through my Amazon order history to find when I ordered the headset and found that of course, it had been discontinued and superseded. The new headset looked pretty similar but was much more expensive than I remembered so I decided to shop around a little to see if there was anything better to be had. After some searching I found a very well rated, and nice looking, replacement for around ten dollars more so I pulled the trigger.
As most of us are prone to do, I spend some time every day perusing social media sites and navigating other sites throughout the Internet. Many of these sites will augment their income by placing strategic advertising blocks throughout their pages. As you can probably imagine, for the remainder of this week I have been assaulted with requests to buy laundry hampers and gaming headsets.
Being in marketing I just shook my head and thought to myself, "What a waste of marketing touches" as there was zero opportunity for me to acquire any of these products (one wasn't for me and wasn't purchased on-line; one had already been acquired and thanks to Amazon Prime, already been received). I sat back and tried to think back to my very extensive history of Internet browsing and shopping. Had I ever actually followed one of these re-targeting ads and completed a transaction?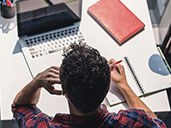 I'll be honest, I can't remember a single time I had; I may have done it but I can't recall when.
To make things worse, next time I went to Amazon, they were still trying to sell me gaming headphones, even though I already purchased them.
So the question is what best to do with these available marketing touches? Well of course the answer it to make the most of them. But how do we do that?
One way to accomplish this is to implement a promotional engine that doesn't just do blind re-targeting. Instead you can use a promotional engine that has a self-learning, predictive analytics engine that will pinpoint target customers with relevant and valid promotions instead just blindly retargeting.
Solutions like
Infor Interaction Advisor
takes it to the next level by not only providing pinpoint targeting, but it also has an extensive and proven track record of providing increased conversion lift in all marketing interactions where it is being used.
Written by: Birger De La Pena, Solutions Consultant, Infor
Let's Connect
Contact us and we'll have a Business Development Representative contact you within 24 business hours