Speeding new product introductions to meet customer expectations
Building and turning on an "innovation engine" is no easy task.
Manufacturers in all industries are facing increased pressure to speed the rate of product launches and deliver offerings that are innovative, top-performing, service-centric, or highly personalized. Fortunately, software can make this evolution easier.
How did we get here?

Veteran manufacturers may remember a time when only consumer goods makers had to worry about brand equity and continually keeping pace with seasonal designs and changing preferences. Those days are long gone. Even the term "B2B" is now considered antiquated by those who argue every industry now must now adopt a "direct to consumer" mentality.
This evolution places new pressures on manufacturers to dazzle customers with attentive service, a pleasurable buying experience, and rapid releases of new products. A steady stream of new innovative features and added-value is the new normal.
Welcome to the new era

Even makers of industrial elements, like pumps and compressors, are now feeling the pressure to continually refine and boost performance of their standard offerings. Annual product launches, once the standard in many industries, will hardly satisfy buyers who have become accustomed to online searches, social media reviews, the ability to compare features side-by-side, and using webpages or portals to personalize products, add warranties and service contracts, and track orders through production and shipping stages.
This means manufacturers in all industries must step up their abilities to design and introduce new products, streamline engineering and testing phases, and condense processes. The product launch cycle for complex machinery and equipment, for example, requires establishing pricing models, securing suppliers, retooling, training the workforce on changes, educating channel partners, updating aftermarket service contracts, and stocking new inventories of consumables and replacement parts.
The food and beverage industry, subject to strict regulations, testing, and labeling requirements, also has a lengthy release cycle that is difficult to compress. Critical steps cannot be skipped or hurried, making proper management of the product lifecycle extremely important. This is where product lifecycle management (PLM) solutions come into play. They help the manufacturer plan and track the steps, streamlining communication and shared team tasks.
Innovation starts with a spark
No matter the product and the specific prerequisites to a launch, product innovation always begins with a spark of imagination. New ideas can come from anywhere, anyone, and at any time. Manufacturers that are considered highly innovative typically have a company culture that stresses creative thinking, accepts risks, and rewards individuals who are willing to go out on a limb and explore new concepts.
Taking an idea and nurturing it through execution can be complex, requiring careful orchestration of many processes and people. When it comes to innovative ideas in software technology, the deployment is just as critical as the basic concept. Without careful execution, even the most creative ideas will just sputter and slowly fade away into vague, nonconclusive results.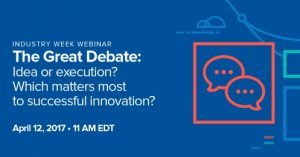 "The Great Debate on Innovation"
Join us April 12 at 11 a.m. EDT to hear a panel of experts debate who has the most important role in innovation. Representatives from academia, solution development, and the manufacturing shop floor will each bring their unique view on innovation.
Neil Gatenby, business architect at Thales in Australia, will be among the speakers. Thales is a global manufacturer of materials for the A&D industry with highly innovative products. Gatenby will share the story of Thales' move to the cloud, a phased approach to launching disruptive technologies, and the value of agile ERP solutions. You don't want to miss this fascinating perspective.
Register now
.
Let's Connect
Contact us and we'll have a Business Development Representative contact you within 24 business hours