Spine labels & their technology: XSLT
Sometimes you use your ILS (Integrated Library System) to realize high-level functionality, involving your customers (borrowers), bibliographic metadata or bulk operations such as global change or global delete. Sometimes however you just want to do relatively easy, low-level stuff such as printing a label.

Though in the case of spine labels the result is simple ("printing a shelfmark label"), the technology beneath it (XSLT) is not.
Historically, shelfmark label printing was limited in terms of formatting and layout. It was basically a character-based configuration, which could cause issues with spacing between labels etc. Therefore, XSLT templates were introduced (as part of V-smart 5), thus providing much greater flexibility in terms of content and formatting. The bottom-line principle is similar to mail merge in Microsoft Word and the configuration of it requires the same underlying configuration (e.g. setting up SQL tables for the mail merge views.



The technology: XSLT
On top of the previously supported Microsoft mail merge, XSLT MailMerge requires additional components on your V-smart server, which are installed by Infor. These are:
XSL-FO (XSL Formatting Objects) templates
Apache FOP (Formatting Objects Processor)
XSLT (eXtensible Stylesheet Language Templates)
JRE – Java Runtime Environment
Integrated Xalan XSLT processor (of Caché InterSystems)
CUPS print server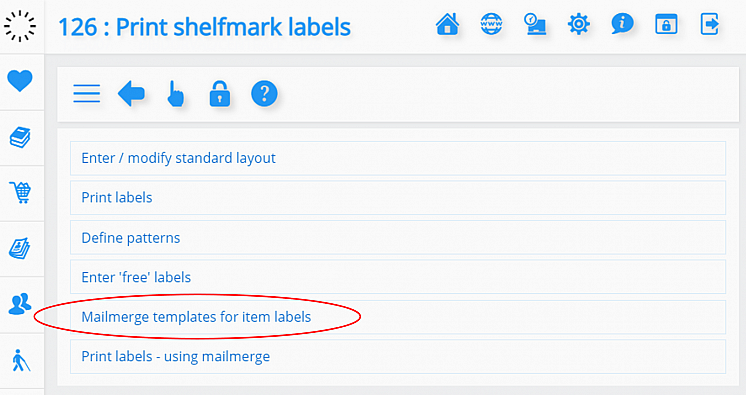 The Result
Major advantages include a more sophisticated line break logic and flexible formatting of e.g.
Font size and type
Layout (all in mm rather than characters for better alignment)
Left padding
Right padding
Top/bottom padding
Padding between labels
Label width
Label height
Orientation (portrait or landscape)
Both full sheet and single label roll mail merge labels are supported. As most libraries receive new materials already labelled, the usage is often primarily for printing replacement labels. Multiple templates can be defined to allow for different formatting of labels for different material types, etc.
When compared to traditional character-based printing, the advantages are multiple. Its flexible and accurate formatting is not character based.
Also, when compared to Microsoft mail merge, there are huge advantages: the fact that no separate printing workstation is needed is probably the most striking one.
Though the technology is complex, usage is easy and the results are powerful.
Product
Library and Information Systems
Let's Connect
Contact us and we'll have a Business Development Representative contact you within 24 business hours