Supply chains must adapt or die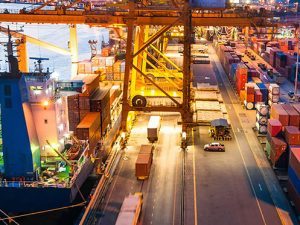 Adapt or die. That message—or some version of it—has been scattered throughout the conversations and keynotes at prominent supply chain conferences over the past year.
The rate at which new competition and technologies are introduced has accelerated over the past 10 years. Disruption happens daily. And customers expect newer, fresher products faster than ever. Companies can no longer expect to do business as usual and survive. There is no such thing as business as usual. Unless, of course, that business is rooted in constant change.
All this change has put supply chain practitioners on a treadmill of sorts. Everyone's racing to keep up, and the results don't always feel like progress. And not every supply chain is in good enough shape to keep up. However, it's the supply chain's job to shape its companies into disruptive forces in an age of constant disruption.
Living in a digital world
Digital transformation is fast becoming a reality. Still, many companies haven't figured out how to connect the physical supply chain to the digital one.
One company that isn't shy about its digital transformation is General Electric. Seth Bodnar, GE chief digital officer, discussed his company's significant progress toward the future at the recent
CSCMP annual conference
: Almost a century and a half ago, Thomas Edison's startup was fueling the industrial revolution that would improve billions of peoples' lives. And today, the software revolution is meeting the industrial revolution. And that same company, we're moving from sledgehammers to digits. We're building the world's premiere digital industrial company. So this is the future of our company. This is the future of our customers' companies. And this is once again going to transform billions of peoples' lives.
Other examples are Johnson & Johnson's efforts to improve traceability in the drug supply chain, and Nike's efforts to introduce 3D printing and automated technologies into the products made by the global athletic brand.
These digital technologies, which also include robotics, the Internet of Things, and advanced analytics, make up a digital supply chain revolution that
75% of executives consider important
to their businesses. But not everyone is satisfied with their progress so far—and some don't know where to begin.
Supply chain disruption is less a question of if something will happen, but when. The ability to keep the business running when something goes wrong is paramount to survival. Not every incursion is a
black swan event
. It's the smaller, day-to-day incidents that can steadily chip away a company's resilience, ultimately causing the most damage. It's the understanding that risk presents itself in many ways – significant and mundane – and the preparedness to manage it, that keep supply chains running.
A seat at the table
Supply chain is still looking for a seat at the table, but it certainly isn't for lack of trying. Although some
76% of companies operate without a chief supply chain officer
, there is growing recognition of the supply chain's role in adding value.
At a recent presentation, Michelle Meyer, PWC director of supply chain management, stressed the importance of considering what the business looks like organizationally and structurally. She described a time at IBM when it began an organizational transformation focusing on supply chain. The biggest shift at the beginning, both structurally and culturally, was the establishment of an SVP that didn't own a brand. Up until that point, every senior vice president was responsible for a specific brand.
The new role, SVP of supply chain, was a break from the mold. IBM ended up putting all procurement, customer service, demand planning and scheduling, distribution and manufacturing under that supply chain bucket. It ended up with 22,000 people reporting into that supply chain organization. If you weren't in sales, marketing, R&D or finance, you most likely were lumped into supply chain. It was important to clearly define the role and structure from the outset. The starting point was determining how the supply chain generates value. Meyer stressed the importance of spelling out to the CEO and CFO how an integrated supply chain contributes to the business. Not simply cost cutting but bringing value to the table.
Regardless of whether it's risk management or the digitalization of supply chain, it is leadership that will drive companies forward and elevate the status of the supply chain in an increasingly competitive and fast-moving world.
Let's Connect
Contact us and we'll have a Business Development Representative contact you within 24 business hours