Take a deep dive with Supply Chain Execution at Infor TechEd Las Vegas
December 21, 2018
By Claudia Pasquet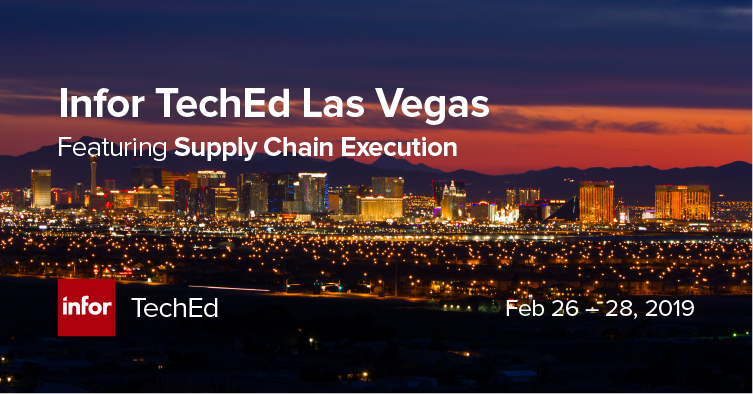 Discover best practices for Infor Supply Chain Execution

2018 is almost over and we're looking forward to starting the new year with a big bang with our Infor TechEd Las Vegas event—taking place February 26-28, 2019.
Take your Infor software knowledge to the next level by attending Infor® TechEd, a unique training event where you can discover new ways of tackling business challenges and optimizing your productivity. Infor TechEd, Las Vegas 2019 will feature Infor OS, Infor M3, GT Nexus, Infor Supply Chain Planning (SCP), and Infor Supply Chain Execution (SCE).
The Infor Supply Chain Management (SCM) team is excited to present advanced training on SCE/WMS topics at the TechEd Las Vegas event, including:
Appointment/dock management
Putaway
Flow-thru and cross-dock configuration
Wave management
Task management with interleaving
Batch picking
Cluster cart picking
Speed Pick with Demand Replenishment
RF pack-out for e-commerce
Work order kitting
Labor management
Download the event flyer to learn more about the breakout session topics, keynote sessions and our product experts that will on site.
Training will include classroom exercises with both configuration and real-life scenario completion. In addition, the SCE team will discuss details about new and enhanced Infor SCE functionality and capabilities that are on the roadmap.
During the keynote, deep-dive breakout sessions, and panel discussions, you'll learn about:
Put-to store grid Picking
Multilevel inventory/serial number track-and-trace
3D visual warehouse
Yard management visibility
Any further questions? Don't hesitate to reach out to us TechEd@infor.com.

Meet the Infor Supply Chain Execution experts: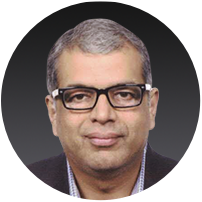 Vishal Minocha | Senior Product Director, Infor
Vishal is a Sr. Product Director at Infor. In his current role, he draws upon over 20 years of experience in defining global product vision and strategy for Supply Chain Execution solution, which includes warehouse management, transportation management, labor management, and 3PL billing. In the past, Vishal has been part of the development and consulting organizations at Infor.
Ian Lauer | Solution Architect, Sr. Principal, Infor
Ian is a supply chain solution expert with more than 18 years of experience at Infor. During that time, Ian has helped design, develop, sell and implement supply chain and integrated business planning systems for organizations globally across many industry sectors. Prior to joining Infor, Ian worked for a global luxury consumer goods company and a European food ingredients organization in a number of supply chain roles with responsibilities covering demand planning, inventory management, product supply and implementing a group sales and operations planning process.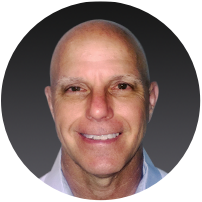 Kirk France | Software Development Manager, Infor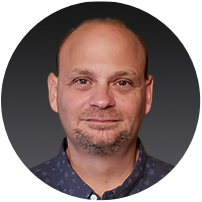 Richard Liles | Sr. Director, R&D, Infor SCE Development
Richard is Sr. Director with more than 25 years of experience with Infor. During his time at Infor, Richard has worked as a developer and business analyst on WM 2000, WM 4000, and Infor SCE. He has also managed the support organization for WM 2000 and WM 4000. For the last 15 years, he has been a manager in R&D responsible for the Infor SCE WMS including integration and reporting.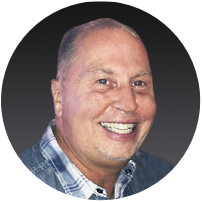 Jerry Beaston | Supply Chain Execution Product Manager, Infor

Jerry is an Infor SCE (WMS) Product Manager with more than 25 years of experience designing and implementing warehouse management systems. His expertise includes project management, product functional design, product quality control, and product configuration/implementation.
Larry Wright | Principle Systems / Database Administrator, Infor

Larry is currently part of the SCE Research and Development team with 20 years of product delivery and maintenance experience. His background includes extensive consulting and product support learning the needs of not only those who use the product but those who manage the product on an ongoing basis. This has driven his goal of streamlining and simplifying the SCE installation, configuration, management and upgrade tasks throughout the application lifecycle."

Filed Under
Education & Transformation Services
Events
Manufacturing
Supply Chain
Industry
Aerospace & Defense
Chemicals
Fashion
Food & Beverage
Industrial Machinery & Equipment
Product
Region
Worldwide
EMEA
North America
APAC
LATAM
Let's Connect
Contact us and we'll have a Business Development Representative contact you within 24 business hours