Take these 10 steps to turn parts inventories into strategic assets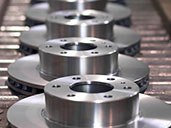 A new
article in Industrial Maintenance & Plant Operation
(IMPO) magazine lays out 10 steps to turn your maintenance and parts inventories into strategic assets, using a technology-enabled approach to Enterprise Asset Management (EAM).
The 10 steps
1. Taking a critical look at system performance, to assess the operations of each item on the production floor
2. Treating optimal performance as the standard—since any business operation is only as reliable or efficient as the weakest link in the chain
3. Checking the performance of the existing maintenance and parts inventory system, and critically assessing the proportion of repairs performed at the last minute, or on an urgent basis
4. Creating a culture of prevention, to anticipate and solve equipment failures and parts shortages before they occur
5. Automating the oversight process, using sensor technology to track emerging problems faster
6. Delivering visibility across the organization, with EAM and inventory management systems that give different functions within the enterprise the specific types and levels of information they need
7. Integrating parts and maintenance across the business, using a state-of-the-art EAM platform to bring the entire operation together in a single, intuitive, easy-to-use interface
8. Breaking down the siloes by connecting EAM to all the other critical functions and systems that drive a successful business
9. Taking the show on the road by tapping into the power of mobile EAM
10. Taking advantage of the cloud to significantly reduce IT costs and improve operational efficiency
Anticipate failures before they occur
"The opportunity is unprecedented, and would have been unimaginable for past generations of maintenance managers who had to rely on paper-based systems to keep machinery in a state of good repair," says Infor EAM's Technical Product Evangelist, Kevin Price. "But when every step in the production chain matters and time is money, success in a competitive, global marketplace depends on the ability to track system performance in real time, anticipate failures before they occur, and optimize systems from end to end."
Read
"10 steps to turn parts inventories into strategic assets" to learn the details behind each step.
Product
CloudSuite Distribution Enterprise
CloudSuite Facilities Management
Infor EAM
Region
Let's Connect
Contact us and we'll have a Business Development Representative contact you within 24 business hours