Technology essentials for deploying an effective servitization plan
Part 2 in a discussion of servitization in manufacturing.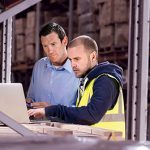 Servitization offers many benefits to manufacturers–if it is done well. It can be a way to stand out from the competition and build relationship with the customer. But, adding service offerings and outcome-based service offerings can be complex. Without the proper technology, the efforts can backfire.
Not only will you need to look at your internal systems for managing the customer relationship, you will also need to focus on departments and applications which with engage with customers and their systems. That can be anything from field service to tools to receive and analyze sensor data from the customer's location. You and your customer will likely be closely connected, with data intertwining.
Field service and asset maintenance technology will likely be involved in a servitization strategy so you can deliver, install, maintain and service equipment for customers, whether they are farmers or road construction contractors.
There are some of the typical needs to consider as you plan how to make your organization service-centric.
Customer view:
You need a complete view of the customer, past purchases, likely future purchases, account status, and service history.
Visibility.
Visibility to processes throughout your organization, from orders to delivery, is essential to ensure a broad commitment to putting the customer first, continually improving the customer experience.
Service contracts.
The ability to offer, manage, and execute service agreements is a critical element. The manufacturer/distributor must have qualified technicians, tools, a service fleet, parts inventory, and tools for tracking the terms of the agreement.
Preventive care
. You need technology systems which can monitor machine performance and predict maintenance requirements. Being proactive is the key to keeping the shop floor running without unexpected shutdowns or delays. Data from sensors can help detect early warning signs of maintenance requirements.
Parts and assets in inventory.
The service operation relies on the availability of replacement parts, even the slow-moving, or costly parts. Predictive analytics will help forecast demand so excessive just-in-case stock won't tie up capital.
Service-centric workforce.
The organization needs to adopt a customer-centric approach which is authentic and technically adept. Skilled service technicians must be recruited and retained—no easy task in today's highly competitive labor market.
Field service processes.
The service operation must be streamlined and ultra-efficient to keep the call desk, service center, and schedule/dispatch operating smoothly.
Sensor-generator data.
Internet of Things (IoT) technologies add advanced capabilities, letting companies track physical confliction and performance of numerous characteristics, from temperature to vibration. These data points can be analyzed to predict performance or trigger automated reactions.
Advanced BI, Predictive Analytics and AI.
If you are going to offer a product as a service or commit to customers that you will offer an outcome, you will need some advanced technology to support your efforts and make the process efficient. Without the proper technology, you face large risks. In most cases, advanced business intelligence solutions with predictive analytics will be necessary so you can finetune needs, demands, supply chain trends, and respond with insightful decisions.
Let's Connect
Contact us and we'll have a Business Development Representative contact you within 24 business hours