Ten elements of modern field service in the era of servitization and outcome-based offerings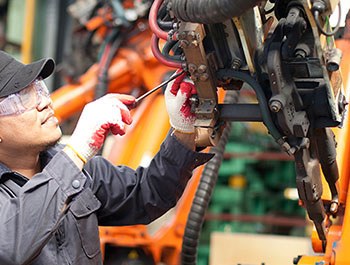 To successfully navigate the digitalized service landscape, manufacturers and distributors must have finely-tuned service operations in place, taking advantage of modern technology. Old-school systems can no longer keep pace with the heightened level of customer demands and competitive pressures. Speed of service, proactive attention, data-centric insights, and measurable results are all necessities in today's flourish-or-die business landscape.
The service center is more important in manufacturing and distribution than ever before. As global competition intensifies, the risk of commoditization escalates, reaching critical threat levels. This means companies must concentrate on differentiators. Improving the customer experience is one of the most obvious ways to add value and move the pre-purchase dialogue away from price alone.
Ecommerce, contact centers, field service, logistics, warranties, and service contracts fall under the traditional scope of customer engagement and service. Now, though, outcome-based offerings, servitization, or "product as a service" are advanced concepts gaining adoption. These next generation service offerings require technology—and some very specialized functionality—to even get off the drawing board.
Let's examine the types of technologies and features/functions that are necessary today to manage and staff a first-rate service operation, one that can continue to evolve as trends change.


ERP/integrated visibility. The ERP solution is the backbone of the company, providing end-to-end visibility to accounts, orders, shipping, inventory, and more. A robust ERP solution with easy-to-use reporting is a prerequisite for creating a finely service operation. The ERP helps C-level officers and stake holders understand the contribution the service operation makes to the company's bottom-line.

CRM and account insights. A solution to help track and manage customer relationships is also table stakes. You need a view into the customer's future plans as well as the current and past purchases, service agreements, and service history. Customer Relationship Management (CRM) tools play an essential role in proactively aligning with customers.

Cloud-based performance-monitoring. Manufacturers of machinery, equipment, and industrial products are increasingly embedding sensors in their products which can monitor a wide variety of physical conditions, from temperature to vibration. The data is used to detect early warning signs that maintenance is required. The customer can track this data. Or, the manufacturer/distributor can perform this service for the end-user. Cloud solutions, with ultimate elasticity, provide the capacity needed to store, aggregate, and communicate the vast amounts of data produced by sensors. Enterprise Asset Management (EAM) solutions help manage maintenance processes, extending the lifecycle of equipment and preventing unscheduled downtime.

IoT connectivity and predictive analysis. Companies are using IoT data and business intelligence to ensure they offer highly efficient service offerings, a necessity for profitable servitization strategies where the manufacturer or distributor offers the customer out-come based services. For this model, sometimes called platform as a service or power-by-hour, to be profitable, the service provider must be highly attuned to controlling costs and accurately projecting time/labor/equipment/parts before quoting the project. Data from IoT and business intelligence tools help the service provider complete the contracted task as efficiently as possible.

Insights on best practices. In many industries, the field technician, account manager, or call center agent can play the role of trusted advisor, especially when complex equipment or products with high tech components are involved. For that relationship to work—for both parties—these customer-facing personnel need to have access to details on service history, maintenance contracts, likely next purchases, upgrade paths and potential results from repair vs. replace, product up-sells and cross-sells. Technology can put this type of information at the fingertips of stakeholders, in consumable formats.

Productivity tools. Service technicians, whether in-house of dispatched to customer sites, need productivity tools to enhance first-call resolutions rates. Drive-time, back and forth from the customer site to the service branch to obtain tools or parts can destroy productivity and profitability—plus annoy customers. Technology can end those wasted trips. Predictive analytics can anticipate what kinds of tools, replacement parts, or new materials are likely to be needed on the day's job orders so that the service van is appropriately equipped before it leaves the service bay.

Scheduling/dispatch. Optimizing scheduling for the best use of resources can be challenging. Not only must you assign the technician based on skills level, but you also must supply customers with an accurate projection of when the technician will arrive. Waiting all day for the service tech is no longer acceptable. Modern field service technology uses GPS systems to track fleet locations and generate recommended driving routes. Schedule boards help assign the right technician and prioritize work orders.

Parts inventory. Maintaining an appropriate inventory level of parts and components is essential to timely repairs. But, slow moving parts can tie up capital and high tech parts tend to have a limited shelf-life as new versions are continually released. Managing inventory can be a challenge. Predictive business intelligence tools will help accurately forecast needs so you aren't over-stocking or facing stock-outs.

Mobility. Technicians in field service and plant maintenance require mobile solutions so they can access critical data, such as as-serviced history, part inventory, maintenance agreements, planned maintenance, and likely next purchases. When equipped with mobile solutions, the technician can easily capture the service performed, including parts used, for accurate billing.

New technologies. New applications which will enhance the service operation are continually being developed. Drones are now being used to help inspect remote equipment. Virtual reality is used to help train the next generation of technicians and used on jobsites to give technicians enhanced views of equipment they are servicing. Wearable devices, such as video-equipped headsets, help technicians communicate with the service branch and share images of the jobsite. Diagnostic tools, using sensor data, help detect likely causes of performance failures and compare the ROI of repair-or-replace decisions. These are some of the more recent applications of technology, but innovation continues.

Concluding thoughts
Servitization will continue to play an important role in giving manufacturers and distributors ways to differentiate themselves. But, to be effective in the service role, companies must turn to technology. A modern ERP solution with cloud deployment is the first step in the journey. Predictive analytics should be included. Then, field service solutions and enterprise asset management solutions are needed to manage the daily work orders. Investing in technology today will help you make the service operation efficient and profitable. Most importantly, you can build relationships with customers, building loyalty.
Let's Connect
Contact us and we'll have a Business Development Representative contact you within 24 business hours