The age of value-added service: Differentiation gets more diverse
Distributors have been hearing for a couple of years that the age of value-added services was on the way. Judging by the results of the 2017 MDM survey, Path to Profitable Services, that new era has dawned, opening up important insights and new opportunities for market development and growth.

MDM works with Infor each year to take the pulse of the industry, styling itself as the only specialized source of "high-level in-depth resources" to wholesale distribution executives. Its results carry the weight of many thousands of years of hands-on experience: nearly half of its respondents are C-level executives, the rest are middle to upper management, and the survey represents most of the major distribution sectors and all sizes of business.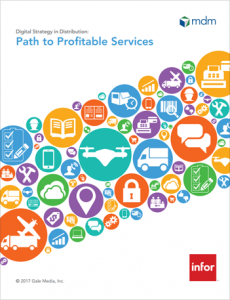 So when MDM advises distributors to introduce targeted, new services to meet customers' specific wants and needs, it's a good idea to take note. This year, a big takeaway from the survey is that differentiation itself is getting more diverse.

"Most distributors believe the combination of exceptional customer service, unparalleled technical expertise, and unmatched product knowledge differentiates them from the competition in the eyes of their customers," MDM notes.

But now, the expectation is becoming one step more complex.

"As customer demands evolve beyond these basic value propositions, distributors can truly set themselves apart from competitors—while also increasing the wallet share of customers and improving profitability—by adding services that their customers want and need."
A service for every customer profile
The survey paints a picture of a nimble, versatile industry, offering a stunning array of services for a varied mix of customers.

More than seven out of eight distributors surveyed offer next-day or same-day delivery. Three-quarters provide flexible shipping methods and some form of technical or product training. But beyond those obvious standbys, companies drew from a menu of a half-dozen value-added services that included:

Inventory management (68.4%)

Job site delivery (64.3%)

Multiple payment options (62.2%)

Shipment tracking (61.2%)

Kitting and break bulk (61.2%)

Bundled invoicing (60.2%).

The list is valuable intelligence in itself, providing a snapshot of what customers expect and how distributors are responding.

But it also shines a light on a state-of-the-art, cloud-based ERP as a distributor's best tool for managing the shift to a more customized business model. It takes skill and discipline to deliver made-to-order service to a demanding, widely varied customer base. It's pretty much impossible without the right software tools.


Download a copy of the 2017 MDM survey, Path to Profitable Services, or view the on-demand webinar.


Product
CloudSuite Distribution
CloudSuite Distribution Enterprise
Distribution SX.e
M3
Region
Let's Connect
Contact us and we'll have a Business Development Representative contact you within 24 business hours